You may think that buying the perfect present for an outdoorsman is a hard cookie to crack, but whether or not you're wired in the same way, it's actually a lot easier to buy great gifts for the more outdoorsy types than it is to buy a present for the typical person.
Why? Well, since you're asking this question, I'm going to make the pretty safe assumption that you have absolutely no idea what lies on the market for people with interests in backpacking, camping, hiking, survival, bushcraft, and the general outdoors. The answer is plain as day to those of us who dig this kind of thing: it's easy to shop for outdoor-lovers because there's a goldmine of amazing stuff to buy around every corner, much of which is stuff we've spent countless hours ogling at already. So if you buy us pretty much any one of these cool things, it's safe to say we're going to be quite appreciative. Hell, even if we've already got the very same thing you end up buying us (unlikely, considering just how many options there are on the market), chances are we'll appreciate the gift just as much. You don't need more than one iPad or iPhone, but you can never have too many knives.
I've organized our suggestions for outdoor-dad perfect gifts into different price points for those of you who, like us, are on a budget that doesn't just disappear during events and holidays. You might also want to check out our list of presents for gear junkies, as not all the time, but much of it, interests do overlap for those of us who like outdoors and who like helpful tech in their lives.
Or, if you've decided after scrolling through this list that you'd rather gift a pocket knife, head over to our list of the best folding knives by price point.
If you've got a higher budget, keep in mind that if you like a lot of the cheaper options, you can always bundle a number of those gifts together to make your dad a kit instead of going with a single, more expensive present. It's why we've added a lot more gift ideas in the under $30 price point than anything higher. A lot less risky to grab many pieces of gear than just one piece of expensive kit that dad may not be so keen on because he has a favourite go-to bag or tent, say, already.
Outdoor Gift Ideas Under $15
1. Traditional Folding Knife
Great as a first knife, great as a last. Can't go wrong with gifting this pocket knife. Want to learn more about the Opinel No. 8? Read our review of it here.
---
2. EDC Multi-Tool
One of the best multi-tools on the market keeping price point in mind.
---
3. Cutlery Tool
SE 4-Inch Camping Cutlery Steel Detachable Knife 2 Pack
Compact and easy to stowaway, these utensils make it easy to not leave your knives, forks, and spoons at home when you're camping.
---
4. Pocket Sharpener
Smith's PP1 Pocket Pal Multifunction Sharpener
Keep your knives sharp, whether you're in the field or at home. Not as great as some of the much more expensive alternatives, but one of the best handheld sharpeners around that will do just fine in a pinch, and at a very low price point.
---
5. Survival Knife
Mora Companion Outdoor Survival Knife
No way it's possible to have a list like this without mentioning this behemoth of the outdoors. Small in stature, but not versatility. If your father's missing one of these from his collection, it's a surefire perfect addition to his kit.
Opinel No. 8 Traditional Folding Knife – Amazon / Blade HQ
Outdoor Gift Ideas Under $20
1. Folding Hand Saw
Bahco Laplander Folding Hand Saw
Never thought I would pick a saw as a must have, but this one is a game changer. Show dad how quick it can go through a thick branch and he'll be impressed for sure. Lightweight as hell to keep in a backpack and carry along for the ride as well.
---
2. Power Bank
Unifun 10400mAh Waterproof External Battery Power Bank
In this day and age, our cellphones can be more useful than an extra knife – an external battery pack is a no brainer. One that's waterproof? Perfect for taking to the outdoors.
---
3. Keychain Multi-Tool
Leatherman Style CS Multi-Tool
Thomas everyday carried this one for months on his keychain. One of those things where you never know you need it until you need it. Always handy to have on you.
---
4. Water Filter
LifeStraw Personal Water Filter
Water is hella important in the outdoors, and clean, drinkable water may be hard to come by if you forget to over pack water bottles from home. This no frills water filter is lightweight, easy to wear around your neck, and pretty perfect, to say the least.
---
5. Flashlight
85 lumens in a small package. Fenix is a solid company with a great reputation. Just what you want in a flashlight.
Bahco Laplander Folding Wood Hand Saw – Amazon
Outdoor Gift Ideas Under $30
1. Camping Hammock
Outer EQ Portable Parachute Nylon Camping Hammock
Who doesn't hate pesky insects? Sleeping above ground in the outdoors is prime real estate, and this is probably the easiest and quickest bedding you can rig together. Besides that, comfort is high when you're sleeping in a hammock.
---
2. Axe
Fiskars is to axes as Mora is to knives. In terms of both durability and price, this piece of kit is a winner. Nothing better than a weatherproof axe, even if you've got a slew of wood-handle ones already.
---
3. HAM Radio
BaoFeng UV-5R+ Dual-Band Ham Two-Way Radio
Communication meets the outdoors in this handy two-way radio. Help dad keep in touch with his fellow camp mates by getting the crew these. *Note: You need a HAM radio license to operate one of these, but if dad has one or would like to get one, these make the perfect gift.
---
4. Cookware Kit
Sometimes you need more than just a fire pit and some smores, especially when you're out in the wilderness for extended periods of time. These are the perfect cookware kits for that kind of thing. Always handy to have compact gear like this when you're hiking, backpacking, or camping.
---
5. Machete
Gerber Bear Grylls Parang Machete
Whether your pa loves or hates Bear Grylls, this is a fantastic tool in its own right. Thomas has owned one since it came out and still recommends it to this day – a true blue workhorse. That being said, please note that if dad absolutely hates Bear Grylls, you will likely want to steer clear of getting this product, as many outdoorsmen have a problem getting a product with Grylls' name on it, even if the product is phenomenal.
Gerber Bear Grylls Parang Machete – Amazon / Blade HQ
Outdoor Gift Ideas Under $50
1. Everyday Carry Bag
By far and large one of the best messenger bags on the market for the price. Durable (we've been using ours for years) with great versatility, this company knows what it's doing when it comes to bags and packs.
---
2. Portable Shower
Ivation Battery-Powered Handheld Portable Shower
Takes the water from a bucket or sink and turns it into a stream that you can shower in. Let me tell you, this is a handy product that you can be almost sure dad doesn't have yet. After a week in the brush, he will thank you (as will everyone else at camp).
---
3. Solar Charger
Anker 21W 2-Port USB Solar Charger
Much like the external battery pack, this is a no-brainer in 2016. Super handy for when you're off the grid for extended periods of time and just don't have a place to charge up in.
---
4. Classic Pocket Knife
Buck 110 Folding Hunter Pocket Knife
Classic heirloom knife, this thing has been in production since time immemorial for a reason. If you're interested, check out Thomas' review of it here.
---
5. Water Filter Bottle
Sawyer Personal Filter & Water Bottle
Much like the Lifestraw, this Sawyer bottle's a water purifier/filter, but with a longer lifespan and an integrated bottle so that carrying water on you is a heck of a lot easier.
Condor Tactical E&E Escape and Evasion Bag Olive Drab – Amazon
Outdoor Gift Ideas Under $100
1. Multi-Tool
Probably the most popular full sized multi-tool in the world, this thing is pretty amazing. A bit on the hefty side, but we're sure dad won't mind.
---
2. Camping Stove
We have the smaller version of this camp stove, the Solo Stove Titan. Works like a charm, though we personally should've gotten the bigger one. Fuel efficient to the max, and little to no mess in a portable package. Why not make outdoor life easier?
---
3. Large 4-Person Tent
Not everyone likes to sleep under a pile of branches, especially when it's raining. For regulars in the outdoors, try out this highly regarded tent.
---
4. EDC Multi-Tool
Not as versatile as the Leatherman Wave, but much lighter, and has a very convenient pocket clip. Can replace a pocket knife considering it's got a pretty useful knife integrated.
---
5. Survival Knife
Gerber Bear Grylls Ultimate Pro
We know, we know, another Bear Grylls branded piece of kit, but we promise you it's solid. Besides being a knife, it's got a firesteel, rescue whistle, hammer, and basic knife sharpener, all packed into one knife and sheath. Perfect for the survival-oriented. Again, if your dad absolutely hates Bear Grylls, steer clear to avoid a bad lecture. Otherwise, this product is a solid go.
Gerber Bear Grylls Ultimate Survival Knife with Sheath – Amazon / REI
Outdoor Gift Ideas Over $100
1. Backpack
5.11 Tactical Rush 72-hour Backpack
Versatility for the tactically inclined. Not exactly a subtle pack with its MOLLE garb, but it works very well and offers infinite options. One of the most popular backpacks of its kind around.
---
2. Knife Sharpener
Work Sharp Ken Onion Knife and Tool Sharpener
The only electric sharpener Thomas has have ever used that he trusts to not destroy the edge on his knives. It's basically a shrunken down belt grinder.
---
3. Bushcraft Knife
Helle Temagami Carbon Fixed Blade Bushcraft Knife
Is there such a thing as the perfect bushcraft knife? No idea, but if there isn't, this one comes very close.
---
4. XL 8-Person Tent
Coleman 8-Person Red Canyon Tent
Simply enormous living capacity. Not sure if many would be happy staying in a confined space with 7 other people, but for a small family or a small crew that wants plenty of extra room? Great stuff.
---
5. Outdoor Knife
ESEE 6P Black Fixed Blade Survival Knife
Have both the ESEE Izula and the ESEE Candiru, and have never once had an ESEE product fail us, ever. American made and with an unbeatable warranty. Excellent knives for outdoorsmen.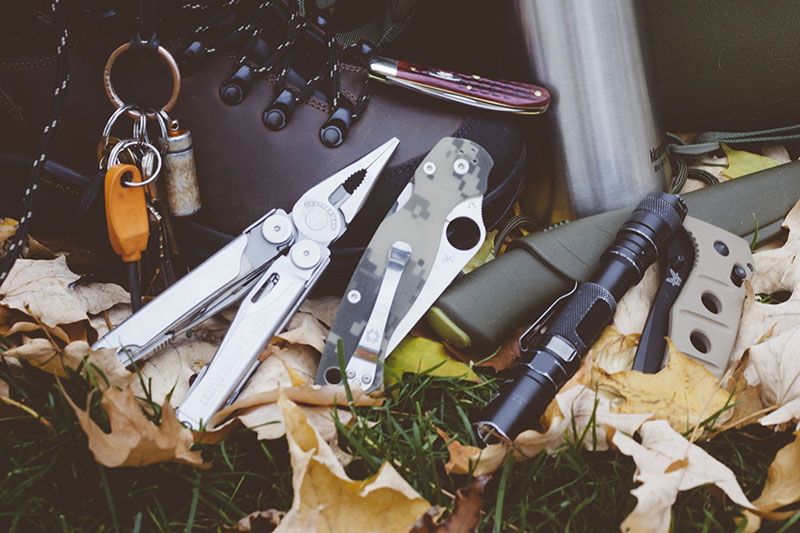 More Camping, Outdoor, & Survival Gift Ideas
If your father has quite a few of the products already on this list, and you're looking for something a lot more original than regular camping, survival, and outdoor gear, check out our list of the coolest/most original outdoor products. You'll hopefully find something just right to gift your dad there.
You can also look through our list of the best folding knives by price point and our list of the best EDC knives on the market for some knife-related gift-giving inspiration.
What Would You Gift an Outdoors-Loving Dad?
Ever bought a gift for your outdoor-oriented dad that he really appreciated?
Are you an outdoorsman yourself who would really appreciate a specific present from your kids?
Let us know your recommendations in the comments section!