Traditionally speaking, ESEE Knives have been something like the voice of absolute reason in a market inundated with gimmicks and pseudo tactical nonsense. Over time, knife aficionados have come to expect a level of clean, functional purpose from Jeff Randall, and as a result, I was pretty shocked when the ESEE Candiru was announced. My thoughts were this: how could a tiny lil' 2 inch neck knife be considered a viable survival tool? I thought there was no way ESEE wasn't backsliding a little bit with this product offer – it did sound like a gimmick. That being said, after a few years of ignoring the Candiru, I decided to just bite the bullet by picking one up to see firsthand if it could really be worthy of the ESEE moniker.
Gonna say it here – I have never been happier to be wrong about my initial reservations. The Candiru is a Jeff Randall Design through and through regardless of its diminutive (only terms of size!) standing in the ESEE lineup. You're definitely not getting a gimmick here – this bite-sized knife really performs!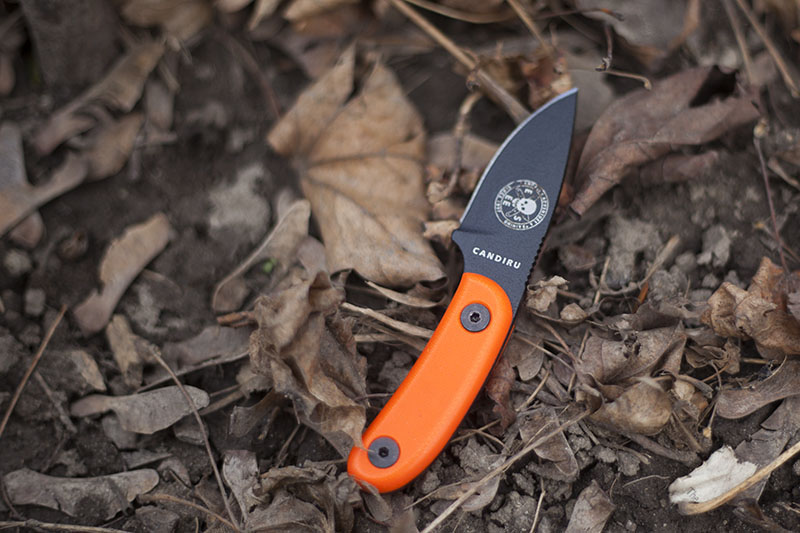 ESEE Candiru Small Fixed Blade Survival Neck Knife – Amazon / Blade HQ
ESEE Candiru Add On Blaze Orange Scales – Amazon / Blade HQ
Right off the bat we'll begin by addressing the obvious "vertical challenge," which as I've already stated, was the source of my questioning this knife in the first place. No matter how you look at it, the ESEE Candiru is ridiculously tiny for a 1095 "outdoorsy" knife. I am talking 5-inches-long-with-2-inches-of-edge levels of tiny, that somehow manages not to be even remotely near as limiting as I had originally assumed.
I will state that you shouldn't be misled into thinking the Candiru is a replacement for a full-sized bushcraft fixed blade, as it's very much a companion to a larger knife for serious expeditions. That being said, it does hold its own.
The rest of this review will be discussing the Candiru purely from the perspective of it being used as a secondary bushcraft tool, and not as it being used as an end-all-be-all survival fixed blade.
Beyond its size, my initial impressions of the ESEE Candiru were how thick the knife actually is when taking into account how little blade is. At .125 inches (3 mm) thick, the ESEE Candiru is a contender for the toughest fixed blade EDC in the industry, and with Rowen's heat treat, I reckon this slab of 1095 steel can take just as much damage as its thickness would suggest. It's certainly an interesting feeling to have a cutting tool that is so small and yet so stout.
Stylistically, I think Jeff hit a home run with this one. Like much of the ESEE line up, the Candiru has very clean and minimal lines that tend to be ergonomically neutral with a bias towards pure function. Instead of throwing in swedges and swoops for the sake of making the knife more "interesting," hyper minimalism was clearly pursued. As I mentioned in the ESEE Izula review I did a while back, I find this aesthetic and performance-driven hyper minimalism very refreshing, and am quite happy to support it in hope of a return to normalcy in the knife world after being bombarded with so much "reverse tanto nightmare grind super hardcore military approved tactical combat EDC knives™" branding.
The ESEE Candiru is a serious tool, but is subtle enough to cater to those of us who tend to lean conservative in terms of design. Elise thinks the Candiru is the cutest little thing (and wants to grab it in a bunch of different colours for her collection), whilst one of my friends thought it was pretty "badass" with its striking logo and its overbuilt construction. It does seem to have elements of both, and I personally feel it has something for everyone – as long as you fancy minimalism that is!
Needless to say, the Candiru is significantly smaller than the ESEE Izula. when comparing specs online, it's very easy to think, "What's 1 or 2 inches smaller? Shouldn't be much difference," but in practice, because the Izula was already small to begin with, knocking off one or two inches in height is quite striking. As you can see below, the Izula dwarfs the Candiru to an enormous degree. And while I would consider the Izula to be acceptable as your only cutting tool in a survival situation, I don't think the Candiru would make the cut.
An extra 2 inches can bring a lot to the table when you're dealing with lengths this small, and even if its very tempting to compare these two offerings from ESEE against each other, I simply don't think they fit the same role/purpose.
ESEE Izula Fixed Blade EDC Survival Knife – Amazon / Blade HQ
The ESEE Candiru's balance point is not quite optimal. It definitely has a distinct handle bias, but taking into account how small this knife is, and its mere 1.7 oz in weight I don't think anyone would complain about its performance in-hand.
It's only a 2 inch blade. You won't be chopping down trees or batoning through logs with it, so obsessing over balance point would be disingenuous when taking into account the relatively light tasks one would actually use the Candiru for.
The ergonomics are saber-grip biased like all (correct me if I am wrong) ESEE knives. There is a touch of jimping on the spine, and whilst it does somewhat aid with traction, I feel the powder coating is slick enough to negate any advantage.
I noticed zero hotspots when using it, and even though this is 100% a 3-finger grip knife only, I do think its ergonomics are above average when taking into account the size of the knife in question.
Please note that I am making assessments of all ergonomics of the Candiru while having the optional scales attached. I do strongly recommend these as they're fantastic. I did briefly try the Candiru without the scales screwed on, but unfortunately found the ergonomics to be sub-par. With the scales on, I would go as far as saying that the comfort "beats" the Izula without scales, particularly in terms of grip comfort.
I imagine this knife would be rather awesome for field dressing and other tasks that require nimble hands and a maneuverable blade. Choking up with my pointing finger on the spine was very natural – I really enjoyed how contoured the optional scales are. The ESEE Candiru is definitely 100% viable for pinch grips for delicate cuts and other finicky activities.
Reverse grip was viable due to the neutrality of the handles, but I don't know what you would stab with such a small knife. With that said, the design means that your hands will not slip into the blade should you decide to use the Candiru in this fashion.
Jeff Randall intended the Candiru to act as a small sheath knife, so my expectations concerning woodwork and bushcraft performance were limited, and as I tackled my basic set of tests, my apprehension toward the knife swiftly turned into respect. The Candiru is solid performer with a stout but sharp edge that really like to bite into wood.
I should mention that the Candiru's small size does mean that I prefer using pulling cuts as opposed to slicing due to my own unease with the thought of losing control of a knife. That's how I chose to carve with it, but as usual, your mileage may vary. It's definitely viable to use the Candiru for "standard" slicing cuts when making stakes or notches.
The edge geometry is very different from the Izula. The Izula has a relatively lean full flat ground, whilst the Candiru has an extremely stout saber grind. In practice, the Izula definitely performs to a higher level of performance. However, the Candiru is most assuredly the stouter knife between the two.
In a lot of ways it's quite an interesting situation with the larger knife being leaner than the smaller one, but I think they both have their place in ESEE's line up and I definitely don't feel like the Candiru should be changed to being full flat ground. Although I do see myself buying a second (and third, fourth…fifth..) Candiru, some of which to regrind into super lean slicers just for the fun of having a super sharp "scalpel like" fixed blade EDC, I definitely don't think that's how it should come out of box.
Below you can really appreciate how stout the Candiru is relative to its size next to the Izula. It's a force to be reckoned with! The tip of the Candiru is sharp by virtue of an excellent grind by Rowen, but it's absolutely not a needlepoint – or anything close to that, for that matter!
The edge geometry and its saber grind transition puts me in an odd situation. I tend to dislike overbuilt "beater" style knives, as I always consider a knife's primary purpose to be for cutting. However, the Candiru has done everything I have ever asked of it with no blunders or difficulty, so I can't really complain about its saber grind transition.
The 1095 steel blade is very well made with a superb heat treat to a solid and dependable 55-57 HRC. ESEE had no delusions about this being an edge retention king contender, and it's definitely not trying to compete with a box cutter, so any criticism I would normally have made about such a knife seems to have been silenced.
I can't help it, I really love this lil' tyke.
The sheath is injected molded plastic. It is well made and retention is fantastic with no wiggling or rattling. I expected no less coming from ESEE, but being proven right is always a boon.
Also note that a drawing of a Candiru (which is an adorable ferocious "vampire fish") is nicely stylized on one side of the blade. I love this attention to detail. I think it really brings the whole product together.
The sheath comes with a bunch of holes for mounting clips and the like. Personally, I would just slip it into my pocket, as it's so small it would be like having a large folding EDC, but the option to strap it on a pack is always there should you want it.
Another great option that I'm particularly fond of would be to thread a lanyard and carry it as neck knife. While it's not super discreet (unlike the CRKT Minimalist), it's not obnoxious either!
Definitely comfortable, but I would suggest wearing it on the outside, as 1095 is a carbon steel with almost no rust resistance. Skin + carbon steel is almost always a terrible idea for the knife, as skin means sweat and sweat means the knife will ultimately rust with enough time and contact.
Deployment from the sheath is very quick and easy. I use my thumb to push against the ridge of the sheath whilst holding onto the knife, and out pops the Candiru immediately. I recently picked up the Cold Steel SRK and the Ka-Bar Becker BK2, which both have perfect examples of injection molded sheaths with problematic deployment/release, so I was quite happy to have such a straight forward system with the ESEE Candiru.
As mentioned before, those pretty blaze-orange G-10 scales are an optional add on. However, they are one I strongly recommend. I think ESEE should have them as standard for the Candiru at least, as the bare bones Candiru is in my opinion sorely lacking in comfort. That being said, the fact that they're an add on means you get to choose the colour combinations easily for yourself so it's maybe not such a bad thing.
The G-10 used for the scales is not the super textured type that one would find on a Cold Steel, like on the Recon 1. but rather a high quality, dense G-10 with a very smooth finish and minimal texturing. I am absolutely in love with the colour options, the quality, and the ergonomic improvements of the scales. At less than 20 bucks, the add on Candiru scales hands down worth it.
When I first picked up the Candiru, I expected to find it lacking in functionality. The knife isn't as small as a true EDC neck knife like the CRKT Minimalist, and doesn't have the cutting power of the ESEE Izula, and I knew it wouldn't be a replacement for either, but as time went on, the Candiru really grew on me and I honestly found myself falling in love with it.
In a lot of ways I've developed a fanboy appreciation for the Candiru that I can't quite put a finger on or explain properly to others. I can quite emphatically state that the Izula is much more practical and thus offers more in terms of bang-for-buck, but I still find myself loving the Candiru more. Sometimes you just love a certain knife for reasons that may not be technical or performance based, but simply just because. It's a charming little thing and it's a knife that I can definitely see myself collecting multiples of in the future (especially thanks to some excellent colour options).
As I mentioned at the beginning of this review, the Candiru is not a replacement for a "real" outdoor knife. I strongly advise against carrying it as your sole cutting tool, and instead suggest you treat it as a solid, tough back up knife to have "just in case" you lose your main when trampling through the woods.
If you're torn between the ESEE Izula and the Candiru, I would honestly have to suggest purchasing the Izula first for practical reasons. If you find you want to expand your ESEE collection after that, then go for buying the Candiru at a later date, simply for the pleasure of owning one.
I am reasonably confident that buyer's remorse is almost impossible to get if you're a fan of ESEE and thus ultimately, I strongly recommend the Candiru; but only once you've acknowledged its limitations due to its small size!