When the Spyderco Bug was announced I admittedly scoffed at the idea of a sub 3 inch (total length!) folder. What on earth could anyone do with a 1.27 inch blade? And yet, this tiny knife kept popping up in other people's pocket dumps and EDC showcases…
So here I am – reviewing something I originally held to be a marketing gimmick.
I will pre-emptivly apologize for how lighthearted this review is. As you probably know by now (if you've read more than 2 of my reviews), I have a specific review format and never really chose to deviate from it for the sake of consistency. However, for reasons that are evident, reviewing a miniature knife under the premise that it could be a viable EDC creates pretty ridiculous scenarios (reverse gripping the Bug anyone?) so please prepare yourself in advance by realizing this montage of microscopic knife porn should be witnessed with a sense of humour!
Spyderco Bug Tiny Folding SS Keychain EDC Knife – Amazon / Blade HQ
As you may well have assumed, the Spyderco Bug barely qualifies as a viable knife in terms of size. Whilst construction is solid and the general design of the knife is perfectly viable (its like a super shrunk down Spyderco Police & Delica crossbreed) the reality is that a knife this small has inherent limitations and thus you really have to view it as a curiosity rather than a tool.
Apologies in advance if the vast majority of this review ends up being me typing variations of "just look at how small this thing is!" But seriously, look at how small this thing is!
1.63 inches closed and 2.9 inches open is truly remarkable. Especially when you realize that this is a legit Spyderco knife with a 8cr13MoV blade that is actually full flat ground and pretty damn sharp out of the box. Amazing accomplishment of manufacturing – even if it is pretty much impossible to truly use.
The nature of the teensy blade on the Spyderco Bug of course forces some compromises in terms of grind. Yes, all things considered, the blade stock is pretty damn thin at 1.8 mm, but in a lot of ways the stock is still relatively stout when you take into account the knife's overall length. The tip is pointy, but reinforced like a Delica, and the transition to the edge, whilst pretty acute, is not paper-thin by any stretch of the imagination.
Going to say it again – it's definitely a thoroughbred Spyderco, just shrunk down to humorous levels. Can't argue against that!
The Spyderco Bug's construction utilizes a slip joint system. This makes sense seeing as a lock on such a small blade would be superfluous to requirement, but interestingly enough the Bug's "walk & talk" is extremely tight with a very nice resounding snap when you open it. I noticed almost no side to side blade play, which is quite an achievement. I will mention that if you place the Spyderco Bug in between a vice and crank down, any blade play will be removed. As far as I know, there is no other way to tighten a hidden pivot.
The lock engagement is pretty stiff and I don't see the Bug accidentally closing on its own. Somehow, it actually reminds me of the Case Swayback Gent, although unfortunately, the Spyderco Bug doesn't have a stepped detent. It is either open or closed with no 90 degree stop.
Actually holding the Spyderco Bug is pretty interesting. The ergonomics are not entirely devoid of thought and its clear that whilst the Spyderco Bug is gimmicky in a lot of ways, in practice I imagine Sal Glesser and the R&D team over at Spyderco spent quite of lot of time refining the design to be quasi-viable. The grip is not particularly secure, but definitely not blatantly unsafe either. With its solid two-finger grip and an optional lanyard, I do see this as a decent cutter for very, very light tasks.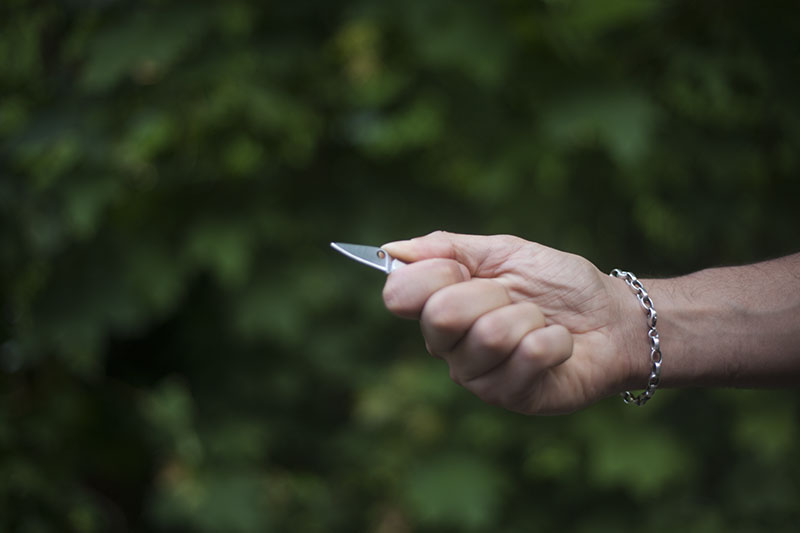 I did have the Bug on my keychain for a week. Opening boxes using this odd forward grip was perfectly viable. The slipjoint engages firmly enough to satisfy my doubts about the safety of the design and as far as box-cutting abilities go, it's pretty damn good (although maybe not as optimal as you would expect). If you want to increase cutting force, note that the risk of injury increases greatly with any leverage/pressure you add on the blade. I do not recommend pushing this knife beyond what its stature would suggest. You really should not be using this as you'd use a full-sized EDC.
As I mentioned at the beginning of this review, for the sake of congruence between one review and the next, I did go through all of my review protocols. But yeah.. total cutting edge is 1.14 inches, so if your planning to segue the Bug as your personal self defense folder then.. kudos and good luck. We will miss you.
As the Spyderco Bug is a slipjoint (albeit a surprisingly strong one) the potential for the blade to close on your digits is pretty strong should you use this knife in ways it was not intended to be used. That said, it does have a moderate choil, and even if it didn't, by virtue of its size you will lose a maximum of 2 fingers if you're being reckless – which may or may not be a reassuring thought, I'll leave that for you to decide.
Personally, I feel that if you're use the Bug for any hard-use tasks – you deserve any predicament you find yourself in. Quite frankly, in these cases, I'd have to question your common sense. It's sad that I have to point this out, but I know it's probably true that someone somewhere will try to use this "knife" properly and unfortunately will suffer the consequences in the process.
If like me you like to burden yourself with a gazillion items on your keychain, then the Spyderco Bug will feel right at home. It's relatively light, coming in at 11 grams (0.4 ounces) and the detent when closed is strong enough to stay safely closed in your pocket.
It's definitely a good backup blade for that one time you need a clean, sterile knife for light cutting. I can see myself sharpening it to a zero edge and keeping it for emergency first aid uses like removing splinters or tasks of that nature that require a sharp, sterile blade.
The box it comes in is frankly adorable. The Bug is definitely a good option for a Christmas stocking filler, or even general gifting. At its moderate pricetag, I think it makes a great gift for knife people – or anyone for that matter. I have received many comments from relatives and friends who are not knife people, ranging from shock to curiosity and amusement regarding its size and cutting abilities.
Definitely a great conversation starter. In terms of social perception, it's by a significant margin my most subtle/least threatening knife (though can you really be surprised by that fact?).
Resting on top of a medium-large EDC knife like the Kershaw Thermite amply demonstrates the disparity in the Spyderco Bug's size. It is diminutive to the extreme.
Elise has a great time finding new ways to show off just how tiny the Bug is. Below you can see it compared to my Missouri Meerschaum corn cob pipe.
Elise is pushing me to buy 4 or 5 more simply as photographic props. It definitely allows you to stage very interesting photo sets that really bring forth its absurd dimensions. I can see myself batoning a match with it for example. Would make for some awesome Knife Drop shots.
Well, this post is a review in name only. Realistically, if you're curious about the Spyderco Bug, then just buy it and try it out. Don't expect a serious cutting tool, but for use in emergencies – why not! Practically speaking, however, it serves as a tiny keychain knife and/or as a curiosity/source of amusement and very little else.
Interestingly enough, Spyderco did not skimp on construction or materials, so this is a legit folding knife. It's very shocking to handle something so tightly constructed when your expectations are so low. I think this is a testament to Spyderco's will to create working tools in the weirdest configurations, as well as to China's manufacturing capabilities when taking into account both the size and price point of the Bug. It's hard to create an overbuilt keychain knife, and yet here we are with a tiny sliver of stainless steel with no real give or play in the smallest package one could reasonably conceive and expect to carry.
I like it even if I don't really get it, and I will likely never fully understand the motivation behind this knife. Kudos Spyderco.