The Cold Steel Hold Out II is what happens when the sick minds over at Cold Steel HQ look at a classic Scottish Sgian Dubh dirk knife and think to themselves, "What happens if we drenched it in tactical sauce and made it folding?" – well, wonder no more. This is one of the oddest yet totally practical blades in my collection. From a knife steeped in history to this sleek, taper whatever-this-is, we have a neutral grip tactical/bushcraft/EDC/everything folder at a price point for the masses.
I know this isn't the most popular Cold Steel, and that no one has requested a review (unlike the Finn Wolf – yes, yes, it's coming!), but its interesting enough for me to feel the need to bring it to mainstream attention. This is a winner in all regards, and I would be remiss not to drivel on about it!
Cold Steel Hold Out 2 Everyday Carry Pocket Knife – Amazon / Blade HQ
Out of the gate, we have a knife that is more spartan than the Cold Steel Spartan. It's as bare-bones as a folder gets with regards to aesthetic quirks. We are talking 2 slabs of G-10 and a spear point full flat ground blade, which sounds like most Cold Steels, but I find the Hold Out II is pretty unique in execution. As a community and industry, we tend to "ooo" and "ahh" the latest ergonomic trends, grinds, and locks, but sometimes (often, in fact) simplicity speaks louder than any aggressive cut outs and quadruple bezel whatever. It's truly refreshing to handle something so different and yet so familiar. I know this is something that I mention a lot with Cold Steel reviews, but I think it bares repeating. Keep doing you, Cold Steel. I and many others appreciate it.
The first thing that came to mind when I got it was how inexpensive it felt. I don't necessarily mean this in a bad way (it's very stout and fit and finish is not an issue), but the knife is almost insubstantial when taking into account it's size. We are talking 9 inches when deployed. A lot of this is due to the linerless construction and heavy skeletonization. It has reduced this 4 inch folder to a mere 4.2 ounces in weight, all while staying a very solid, brutish knife.
The scales have very little in the way of contouring or extra aesthetic considerations. Just grippy, black G-10 and lots of jimping. If you think this knife looks a touch dull, then imagine how it'd look without the holes in the scales. Needless to say, it's a very minimal design, and I know that might not be up everyone's alley, but personally, I dig it.
The blade is 4 inches of CTS-XHP, I got mine a year or so ago so it's in the older AUS-8A. CTS-XHP is like a PM version of D2 from what I understand, and in my experiences with the Spyderco Military (I have the CTS-XHP sprint run), it performs wonderfully. Definitely in the same class as CPM S30v, and on a $75 folder. I don't know how you do it, Cold Steel, but keep it up.
The grind is a tapered full flat grind. It's not a needle point like the Kershaw Leek, but it's certainly not a folding pry bar. I think it's a solid middle ground. The back of the knife has the deeper, more spaced out jimping, which sorta helps. I wouldn't call it grippy, but then again the G-10 is so abrasive that further jimping is not essential, in my opinion. In any case, it won't shred your thumbs or palms when using it for harder tasks.
Like almost all current generation Cold Steel folders, the lock is the TRIAD lock by Andrew Demko. I have spewed so much love on this lock that at this point I basically sound like a giant fangirl. It's basically the best lock on the market. I love a good nested liner lock like in the Spyderco Military or the Kershaw Blur, and the compression lock in the Para-Military 2 is no slouch, but push comes to shove, if I had to pick one lock, it would be the TRIAD hands down. It's just that good.
The edge is ground pretty perfectly. I saw no flaws, and I have owned this knife for over a year. It has received a lot of use in that time (especially working with wood) and cutting performance is excellent, much better all-rounder than the Recon 1 which is a beefier, more heavy duty 4 inch blade.
The thumb stud is reversible for wrong-handed people. I used to have an issue with thumb studs compared to the elegant simplicity of the Spyderhole, but I find that after using so many Cold Steels over the past 2 years, my thumbs have simply adapted. I wouldn't say it's my favourite deployment method, but a well implemented thumb stud isn't a negative any longer.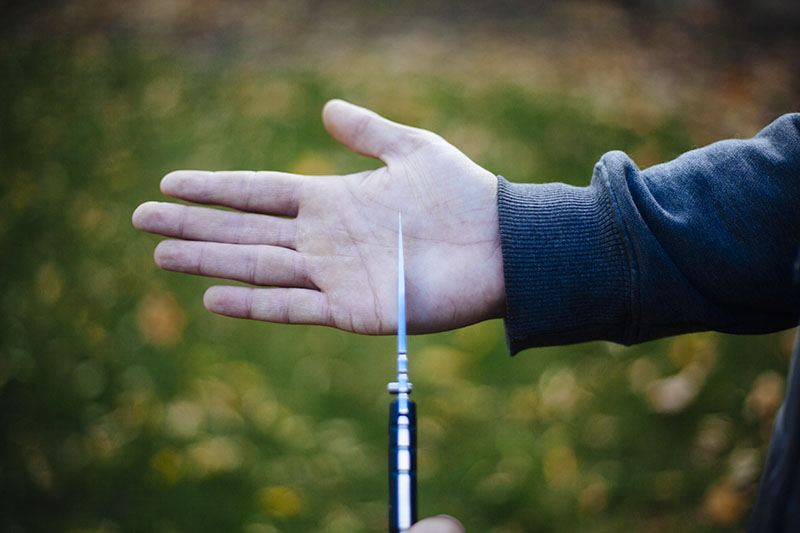 Fit and finish, as I mentioned earlier, is spot on. Centering is dead center, and like all TRIAD Cold Steels I have owned (and played with), I have never had any blade play or niggling issues. It's just a rock solid, no frills folder.
To this day, I just don't understand why companies insist on putting liners on G-10 knives. It's just not needed. The Benchmade Adamas would have been better served with this kind of construction, and even though it's 3 times the cost, I dare say that in a toughness competition – the Cold Steel Hold Out II would wipe the floor with it.
Liners are superfluous to requirement and should not be put in modern knives unless you have a damn good reason. I have a feeling companies add them to add "heft," and in the process fool people into thinking a heavier knife is a tougher knife, which is absolute nonsense. Let the performance of the knife speak for itself, and work towards making tougher and more balanced blades instead of silly grinds and folding boat anchors.
The Hold Out II features a cut out in the blade to aid in positioning your thumb for deployment. It works, nothing magical, but at the end of the day, it's very consistent. I want my knife to open the same way every single time, and with the TRIAD lock to overcome, I think assisted opening knives will be an issue to implement without dealing with a loss of lock strength or mechanical simplicity.
The clip on the Hold Out II, as mentioned earlier, is reversible tip up only. Not an issue for me, as I dislike tip down carry (personal preference, your mileage may vary). Unlike with the Rajah II or Recon 1, the clip is not curved, but completely symmetrical, keeping with the aesthetics of the knife.
One thing to mention, the G-10 on the Hold Out 2 is so abrasive that coupled with a relatively stiff clip, you may find your pockets getting destroyed. It's like 400 grit sandpaper, which is great when your hands are slick, but not so nice on your pockets. You can always smooth out the section that presses against the clip should you so wish. The clip itself is a touch garish with how reflective it is, but that's easily solved (once again, with some sandpaper) by making it satin, and whilst its not a deep carry knife, the Hold Out II is certainly not obnoxious either!
It bares mentioning that you can always make G-10 less abrasive (with some elbow grease), but you can't (easily) make it more aggressive. Something to think about. I read a lot of reviews with people whining about how rough the G-10 is, and frankly, grow up and whip out some sandpaper. This is a super tough FFG $75 folder with kickass American steel and full G-10 scales. Show me another manufacturer that competes at this price point with that kind of performance!
Exactly.
Obviously, such a minimal and dirk-inspired design lends itself to lacking a choil. This would be an issue for me if the lock wasn't a TRIAD lock. Yes, no lock is perfect, but as of today, the TRIAD lock is a close as we have gotten. Should the lock fail – good luck. Those digits won't stay attached for very long.
With that said, as I've said before about this lock – I just don't see how it will fail, even under extreme use.
Another thing that you, my readers, will no doubt mention – what's to stop your hands slipping up towards the blade? Well, for starters the G-10 is extremely grippy, but Cold Steel also saw fit to add some very abrasive micro jimping on the spot where a guard normally would be. Its not a 100% safe bet, but as far as execution goes, they really thought the Hold Out II through.
In a saber grip, your pointing finger locks into the cut out reserved for the thumb stud, and the rest of your hand latches onto the scales. It's a secure grip, using any objective opinion. I don't see my hands moving unless I want them to.
Ergonomics are interesting. The scales taper slightly down, and other than that, you are holding a very neutral handle. The only cut out is for the already mentioned thumb stud, so no matter what sort of fingers or hands you have, this will be comfortable enough for you.
The handle is a smidgen too thin for me. I would have liked it to be thicker/more palm filling, but then again, at what cost? The more machining you add to a knife, the higher the price, which in this case, I don't think I would want.
The great thing about neutral grip handles is the flexibility. You can hold the Hold Out II in whatever position you can dream up and it will have decent ergonomics. Choking up is great and the reason I would nominate this as a fantastic folding bushcraft blade. Down cuts are wonderful and the full flat ground blade lends itself well to woodwork.
Initially, I was a touch cautious about the idea of reverse gripping a guardless knife, but after using it for so long, I can't bring myself to care. This Cold Steel Hold Out has never slipped in my hands, not even a teensy bit, so whilst I have to give a disclaimer and say, don't use this in a reverse grip – personally, I am okay with it. Once again, ergonomics are as neutral as you can get without holding a broomstick like my L.T. Wright Genesis.
See what I mean about grip flexibility? Normally I wouldn't recommend a folder that doesn't have open frame construction for messy jobs like field dressing, but some hot water + compressed air, and I don't see any problems arising.
Balance is dead on perfect, I questioned why they bothered to add holes to the linerless G-10 scales, but if 8 holes means this thing is balanced on that thumb stud cut out for my pointing finger then I say, kudos Cold Steel. I love a knife that has performance in mind as opposed to bling. They obviously took the time to test this baby out, and I can only hope the larger Hold Out I and smaller Hold Out III have the same perfect balance.
A balanced knife is important for extended work, as it makes the knife seem almost weightless when you are actually using it to cut. Obviously, in a chopper like the Ontario Raider Bowie, I prefer the balance to be blade heavy to maximize chopping power, but for a versatile EDC folder with 4 inches of cutting power, I will want the blade as neutral as possible.
I feel like I am going to have to buy a crappy Cold Steel knife soon just to give it a bad review, because at this point, I am basically doing their marketing for them!
The Hold Out II is extreme value for money, with fantastic steel and unimpeachable performance. Yes, it's not particularly exciting, and it doesn't grab your attention like the Recon 1 or XL Voyagers (Tanto & Vaquero) do, but then again, the Hold Out will do everything you ask of it and more. Also, unlike its "scarier" brethren, it won't send the public running for the hills.
The perfect gray man EDC.