The CRKT Drifter has been a mainstay of the CRKT catalog for more than a few years now. I never really thought much of it based on its aesthetics, which is why it's taken so long for me to pick one up. This is a decision I rather regret now.
The cutlery industry is always trying to re-invent the wheel with new processes and materials so when a small boring knife joins the fray it's easy to overlooked. I am definitely guilty of doing this, especially with regards to this particular knife. Yet the CRKT Drifter has really opened my eyes to how much a superficially boring slab of steel and G-10 can bring to the table. If anything, this knife is a lesson in not judging a book by its cover!
CRKT Drifter G-10 Everyday Carry Pocket Knife – Amazon / Blade HQ
The general style direction of the Drifter is purely spartan: absolutely zero frills, flourishes, or anything that denotes a sense of individuality. Elise described it as almost looking like the masculine older brother of the Kershaw Chill, and I'd tend to agree with that assessment.
I would rank the Drifter number 1 in terms of underwhelming first impressions. This is not necessarily a criticism, as overly stylized folders have become, in my opinion, a bit too much these days (looking at you gold class Benchmades!). Sometimes, owning something that forgoes aesthetics in lieu of utilitarian function is appealing in itself.
Something to think about.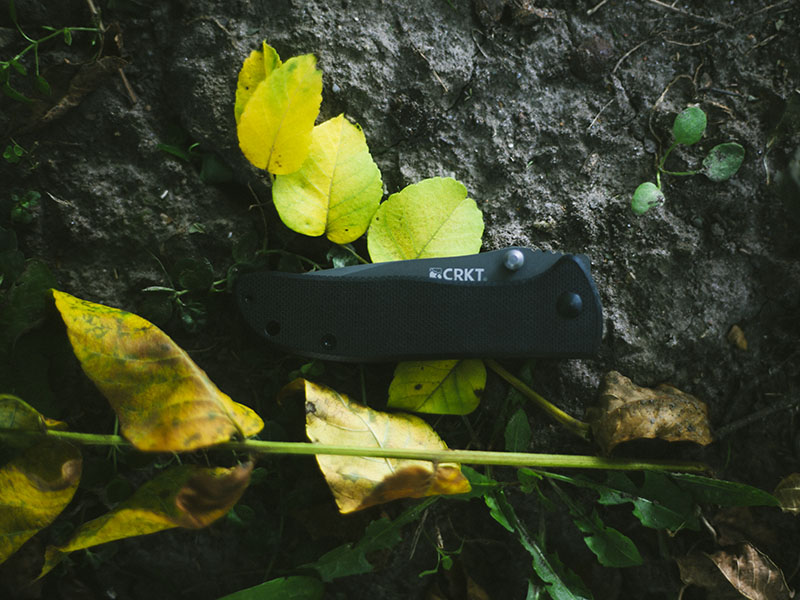 In the hand, the CRKT Drifter is relatively small in stature with a closed length of 3.6 inches (9.14 cm). Yes, it's rather petite, but in practical terms, I didn't find any issues with its performance in the field. It compares favourably with the Spyderco Delica in terms of cutting power.
The drop point blade is made of 8Cr14MoV steel, which is like the ubiquitous 8Cr13MoV, but with a touch more chromium. I didn't do side by side comparisons, but after a few weeks of use I can't say it would have made any difference if it were 8Cr13MoV. It's basically the same stuff.
I own 30-40 knives with 8Cr13MoV blades, and whilst some manufacturers have the heat treating dead on perfect (the Spyderco Tenacious being a good example) I have never had an issue with its performance in general. The steel holds its edge decently and offers good corrosion resistance – all at a very low price point. I have never had any (real world) complaints and neither should you.
Interestingly the Drifter feels somewhat deceivingly premium. When I first got my hands on it, it reminded me strongly of a knife I previously owned, and when I finally made the connection I was floored. Its like a (much) less expensive version of the Klotzli ACC M2, which is a knife that literally costs 10 times as much.
Now before you scoff at me, I am obviously not saying the CRKT Drifter is the same as the Klotzli, but rather that the general feel is quite similar. The construction on the Drifter is very tight, and if I was blindfolded and someone told me, "hold this Klotzli," I would feel like I had no reason to question them on their remark. It really is that good.
The stock thickness of the blade is 0.1 inches (0.25 cm). The tip of the Drifter tapers nicely to a lean point. Definitely not a needlepoint like the Kershaw Leek has, but it's pointy enough without being weak. I wouldn't hesitate using the Drifter for rougher tasks, but it's clearly not designed to be a pry bar, so bare that in mind.
As you can see below, the construction features an open design with two stylized (polished hourglass design) stand offs and a stop pin. Very nice for cleaning, as all it takes is a quick rinse under the tap. I will mention that the stop pin and two stand offs are the only reflective surfaces on the knife. Everything else (including the hardware) is coated in drab grey or black.
The blade is hollow ground. Generally you would expect some sighing from me as I (usually) prefer full flat ground knives, but at this point I have reviewed and thus carried so many hollow ground blades that my bias has been beaten down and crushed, and so I find myself appreciative of a well made hollow ground blade. Blasphemy, I know.
The Drifter's recurve edge is pretty unique, not because of its cutting performance or geometry but rather because it was ground perfectly. Literally perfectly. I am not sure if the CRKT Drifter I got was the exception to the rule, but if all Drifters are ground this well then kudos CRKT because it's very impressive.
I own knives in the $200+ range that have sloppier grinds, which is pretty shocking. Owning knives like the CRKT Drifter relieves me of all guilt from when I do negative reviews, like on the Spyderco Urban, because quite frankly, with sub $30 knives like this one with zero manufacturing flaws – you have no excuses for grind marks or sloppy edges. No excuses.
Dead on perfect centering. I cannot overstate how fantastic the tolerances are. My Drifter is butter smooth with no flaws, machining marks, or anything that indicates a costs-saving manufacturing process. This is remarkable because the Drifter is designed as (and by price point is!) a budget knife.
Why do some "premium" knives on the market have machining marks on their liners or unsymmetrical edge grinds, when the CRKT Drifter does not? Makes you really question what "value" means in this industry.
Speaking of nice manufacturing, the CRKT Drifter utilizes nested liners (both sides!) which is a definite plus. It's a nice touch that adds more manufacturing costs, but makes a lot of difference in terms of balance and feel. The lock up is solid, and as you can see below, the locking liner is proud (meaning it extends beyond the G-10 scales). A fantastic feature that makes disengaging the lock trivial even for those of you who perhaps find unlocking knives to be a somewhat tricky task.
The lock up on the CRKT Drifter is very solid. I never felt the lock slip, and it withstood a few spine whacks, so whilst I have no concerns with its real world viability, I will mention that the 2.875 inch (7.3 cm) blade has no choil. As a matter of fact, the heel of the edge will bite quickly into your flesh should the lock fail.
With that disclosure out of the way, I will reassert that lock failure is very unlikely to happen based on my experiences with this knife and liner locks in general – this is a good example of a liner lock done right.
Deployment of the CRKT Drifter is done using the ambidextrous thumb studs. As of late I have reviewed a lot of flippers, thumb disks, and assisted knives, so going back to old school "slow" deploying knives was a touch jarring, but realistically speaking, it's just fine. I have just been spoiled by other options, and that's not a mark against the CRKT Drifter.
The knife has dual bronze phosphor bushings, which really aids in maintaining a smooth deployment. Even with the pivot cranked down, it was a very smooth transition from the sharp detent to fully opened. It's a very nice feeling to slowly open such a well-constructed folder and I rather missed that. Frequently, with "modern" assisted folders, you can feel like the deployment is smooth only because the spring does most of the work. A fully manual option that you cant flip out like a flipper makes you appreciate manufacturing tolerances and how important they are.
One of the only downsides of the CRKT Drifter is the uninspired and ugly pocket clip. It's obnoxiously large (over half the size of the knife) and whilst it functions decently in that in-pocket retention is tight, the design is so blah that it puts me off carrying the knife. I would like a nice blued or bronzed wire clip, or at the very least something befitting of a clean utilitarian design, like on the recently reviewed Buck Vantage, which features a fantastic pocket clip.
Not only is the clip overly large (and ugly) but its tip down only and not reversible. Wrong handed people are shit out of luck and in this day and age with so much competition in the market thats a pretty large oversight.
I should also mention that the design also makes the knife stick out a solid half an inch out of your pocket, and when the knife is 3.6″ closed thats quite significant.
The balance point is not quite perfect. It's a touch handle-biased and something that would have been remedied if CRKT drilled some holes in the liner (non locking side). A pity, but again, at this price-point, it's already impressive what you get, and I feel asking for more would be pushing it. Every manufacturing step adds cost, and for $28, I do think CRKT is already providing excellent value for money, so I shan't complain (too much).
The weight is pretty much what you would expect. Sure, with no liners it would have been lighter, but at 2.4 ounces (0.15 pounds) I have no room to complain. It's a solid little tyke that feels good due to its manufacturing tolerances and "just right" heft.
A better look at that proud liner can be seen below. You might be forgiven for thinking that the jimping would prove uncomfortable when gripping the knife, but in practice it's not particularly noticeable and adds in-hand retention. All good stuff, and I kinda want all my liner lock folders to have the same design!
The ergonomics are interesting. When gripping the Drifter in a traditional saber grip, you will either get 3 fingers like me (size L hands), or just barely 4. Personally, I don't find this to be an issue, as in-hand comfort is above average taking into account size, but if you have XXL hands, then you might want to test this knife out in a store before buying it.
The spot where your thumb rests does possess a smidgen of jimping, but it's not particularly aggressive. In-hand retention is solid, so it's not particularly needed, but I would have preferred for the jimping to be sharper.
Choking up is definitely viable, and adds a lot of power to down cuts. The recurve blade is already begging to slice through material and with your thumb resting on the (obviously not sharpened) swedge, the CRKT Drifter really cuts well. It also provides full 4-finger grip, which is nice.
Reverse grip is above average. Due to the slower thumb stud deployment and its lack of reach, I don't consider the CRKT Drifter a first choice for a defensive option, however. But its subtle appearance and general blacked out/matte finish does give you the option for a discreet back up blade, should you want one.
Using the CRKT Drifter in a pinch grip would be a ghastly idea and a surefire way of going to the E.R. for a couple of stitches. The heel of the blade will happily give you a kiss, and as I mentioned before, the edge is ground perfectly all the way to the heel. No mini sharpening choil, just a lean hollow grind that would love to bite into you.
The blade has a grey titanium nitride coating that matches the rest of the knife in that it's super boring and frankly that's fine. At this point, the Drifter's impressive performance relative to price point is enough for me to recommend it. I think if CRKT offered a slightly larger version of the Drifter (maybe with a blade that's an inch longer) with the same coating as on the blade of the Hissatsu, and a more abrasive G-10, then it would have another best seller on its hands. Something a touch more premium to match the Drifter's currently superb build quality.
As I quickly proofread this review, I have become acutely aware that I basically sound like a gushing fangirl of this knife, and sure, a lot of that is well deserved, but ultimately I think the CRKT Drifter is the perfect example of how flawed the cutlery world is with regards to bang-for-buck.
Everyday we're flooded with new $150-200 knives entering the marketplace, many of which have inferior fit-and-finish, and truly should make you question why some knives are worth so much more than others.
Yes, the Spyderco Delica 4 is still a better knife (overall), and the CRKT Hissatsu has an absurd amount of tactical swag that the Drifter will never be able to muster, but it bares keeping in mind that at the end of the day, a knife is not much more than a sharpened slab of steel, and if we look at it purely from that objective point of view – the Drifter is one of the finest slabs of steel that I have owned, regardless of price point.