The Buck Vantage was a interesting acquisition for me. In a lot of ways, I find it contrarian to my initial expectations of what a Buck knife should represent – after all, most people think of knives like the Buck 110 Folding Hunter or even the Buck 119 as representative of the Buck design ethos! So when you have a plastic scaled flipper drop point folder with a super lean hollow grind, then it's quite normal to feel confused over what you are holding.
I like to think of the Vantage as an evolution of the Buck 110. This is not to say that it's a better knife (in fact, I don't actually believe they are comparable), but rather that the Buck Vantage can stand on its own merits without feeling like Buck is "betraying" their core demographic by joining everyone else who's jumped on the inexpensive flipper fad. The Buck Vantage, then, represents the company's 2.0, so to speak.
Buck Vantage Select Large 345 Everyday Carry Pocket Knife – Amazon / Blade HQ
I should mention that these are of course just my opinions. Many people will rightly point out that Buck has experimented in the past with very tactical folding knives designed by Mick Strider, and very modern designs by Tom Mayo. I guess the Vantage to me feels more like a true Buck design rather than simply a collaboration or temporary model piece. It feels like a concrete direction that Buck has chosen to head towards. And I like it.
I'll also note that the version of the Buck Vantage that I have is the "Select Large"/"345" version. There are other versions of the knife, which include the Buck Vantage Pro (with different scales and steel), and many different styling combinations, such as the Buck Vantage Select in Rosewood, or the Buck Vantage Force Select (in tactical black). So keep this in mind if you're looking for other options but are a fan of the overall Buck Vantage design.
In hand, the Buck Vantage Select Large is unremarkable. It's not especially large nor heavy, but rather average all around. Total length closed is  3/8 inches (11.1 cm) and it weighs in at 3.7 ounces (104.9 g), so as you can see, it's wholly ordinary with no surprises.
The plastic utilized on the scales is some kind of matte, lightly textured glass reinforced nylon. Similar to FRN in feel.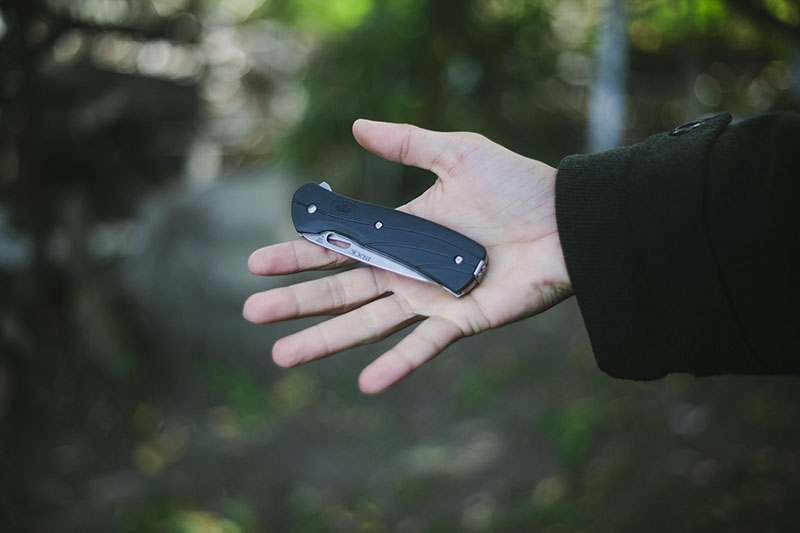 Deployed (more on the mediocre deployement later), you get your first look at that sexy, very lean hollow ground 420HC blade. It's always refreshing to wield a super slicer instead of a folding pry bar.
The stock of the blade of the Buck Vantage is neither thin nor thick. The tip is not anemic, unlike the Kershaw Leek, so I feel that it's fair to say that the Buck Vantage falls under the "general use" category.
The liner lock is solid and engages with authority. The liner itself is not super thick, but I don't doubt its strength. Buck has an excellent reputation for consistency and I have nothing but faith in the execution of this liner lock.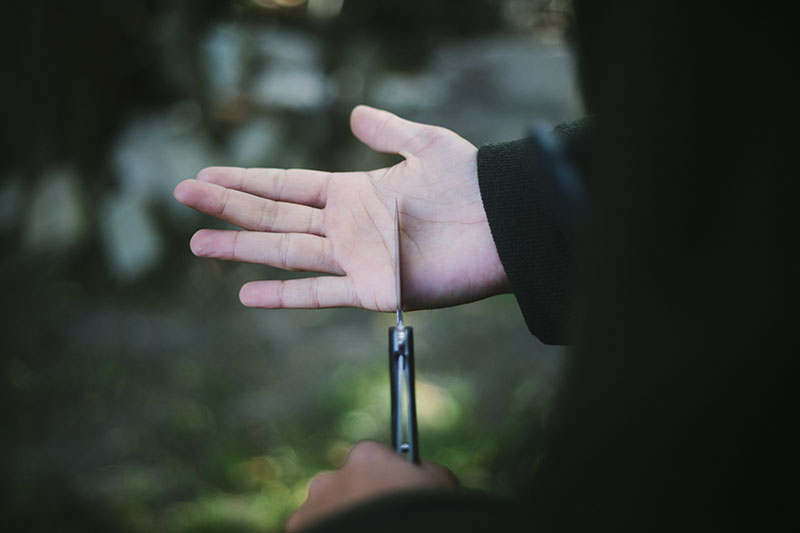 General fit and finish, as well as centering, is pretty nice on the Buck Vantage. Some grind marks are evident on the blade but it's not ugly. Rather, it's got a more industrial quality to it. I didn't notice any other flaws to be honest, and that's quite impressive when you take into account the price point!
The construction of the Buck Vantage is very simple in nature, and unfortunately the liners are neither nested nor skeletonized. If Buck had opted to go for nested liners (or lightening holes), the general in-hand balance of the knife would have improved greatly.
As it stands, the Buck Vantage is very biased towards the handle, which in my opinion can be fatiguing when using it repetitively for too long. I am not sure how much it would add to the cost to reduce the liners' weight, but I think it would have been worth it.
The biggest issue with the Buck Vantage is the mediocre flipper action. The lack of a sharp detent means that when you pull the flipper (and I promise – this is not my technique, I have experimented quite a bit!), the knife only deploys midway. To get full deployment, you will need to generate some inertia by flinging your wrists as you flip the knife open.
There is also a deployment hole in the blade, and whilst it works, I don't think it's as intuitive as the flipper on this knife. Much like the Spyderco Southard, I feel the hole was added as an afterthought rather than as a viable primary deployment option. Just my two cents.
The pocket clip is, in no uncertain terms, awesome. I absolutely love how deep it carries, and its general "subtle yet solid" design. Should be noted that the design makes the Buck Vantage pocket clip fully reversible for leftie carry. I have no criticisms whatsoever – good job here, Buck.
As I mentioned before, the liner lock on the Buck Vantage engages solidly, but with that said, the flipper design means that you get an integrated finger guard should the lock fail. Always a bonus, and one of the biggest advantages of the flipper design.
Saber grip is comfortable. The scales are very neutral with no palm swells or choils of any kind. This is not a negative – as often overly "optimized" handles can be uncomfortable for people with different hands from the mainstream (those with hands that are either too small or too big by comparison to the norm).
A good example of a great neutral handle would be the L.T. Wright Genesis – a true broomstick, but perfectly functional, and naturally has no hot spots. The Buck Vantage is similar in that it offers a lot of flexibility with regards to how you grip it.
Choking up on the Buck Vantage is a terrible idea, as there is no choil for your pointer finger, and the heel of the blade will happily cut into you. I really do not recommend this.
Reverse grip is, as expected, fine. Neutral handle ergonomics means there are no surprises in store. I will note that there is no jimping of any kind on the Buck Vantage, which is quite refreshing. In-hand retention was fine. As far as I am concerned, no issues here.
With that said, it wouldn't be hard to file some jimping into the handles/scales of the Buck Vantage should you wish to. Also possible to add extreme texturing using a soldering iron, as is common as a modification of Glock Pistols. I am not saying it's needed, as it certainly is not, but if you want a super grippy knife with a killer hollow grind (to use for field dressing, for instance) and you want it to be cheap (less than 30 bucks!), then the Buck Vantage is a great option to modify to suit your needs.
As you can see below, pinching the blade is not optimal. My index finger is quite literally resting on the edge of the blade. I only show this grip for review format consistency – I strongly suggest against using the knife in this fashion.
As I mentioned before, the Buck Vantage is very handle-biased, a problem that would have been easy to solve by simply adding a lot of lightening holes in the liners. Skeletonization goes a long way for blade balance, and in this day and age, it's really not that expensive to implement. Check out the Spyderco Tenacious as an example of skeletonization done right!
Once again, I cannot emphasize how great the 3.25 inch (8.3 cm) blade cuts. Super lean hollow grind with the legendary Buck heat treat makes the Buck Vantage a pleasure to use. For the price point, this is a fantastic option for slicing tasks.
As previously mentioned, the Buck Vantage comes in many flavours, some of which include better quality scale materials (G-10 for example) or superior steels as options. I am not sure if they are worth the price, as the core design of the knife is solid and I don't think an S30V blade will be substantially better than 420HC taking into account the price difference. But as I've said in many reviews before, options are always nice for those of us who want something different.
This is getting to sound like a cliche on this blog, as I've repeated this many times before, but as always – you gotta look at the price and unique features a knife offers when determining the value of a knife. Yes, the Buck Vantage may look like a boring knife to you, and yes, the flipper is pretty ghastly, but it's a super slicer hollow grind knife with a great heat treat, made in America ,with a best-in-it's-class pocket clip (honestly – regardless of price range, the pocket clip rocks) for around $27. I do wish the detent was better so that the flipper would deploy nicely, and sure, skeletonization (or even better, nested liners!) would be ideal, but at this cost, I'm not going to complain about them not being implemented.
Also, I'm not sure if I would really want the implementations, considering the fact that I may not really want to pay 50 dollars for a knife when the sub 30 dollar option cuts just as well.
The Buck Vantage is not a show piece. It's not a collectible, and it sure as hell ain't a gentleman's EDC. With that in mind, I can forgive its flaws and opt instead to treat it as an inexpensive work horse like the Buck 110's of yesteryear.
For it's purpose – it's great value.