The Spyderco Des Horn was one of the most interesting designs Spyderco produced in a long time when it came out. Unfortunately, as I scribble down this review, it did get discontinued. I mention this because it is still available in a few places (like on Amazon for now), and as such, if you are interested in this knife, I would strongly suggest snapping it up pronto.
Spyderco Des Horn Lightweight EDC Folding Knife – Amazon / Blade HQ
As you can immediately see, this ain't my usual type of knife. If you assumed that this is the sort of folder Elise would buy to add to her collection, then you would be 100% correct; the Des Horn is in fact her knife, and I am merely borrowing it for review purposes!
Out of the box, the thing that strikes me first is that the proportions are quite interesting. The light weight (2 ounces) and tapered design makes you think that this is a much smaller knife that it actually is when looking at the measurements alone. Holding the Des Horn, I would compare it to the Delica, and without the measurements as a frame of reference, I might be led into assuming it's smaller. But no, it's actually a smidgen larger than the Spyderco Delica 4.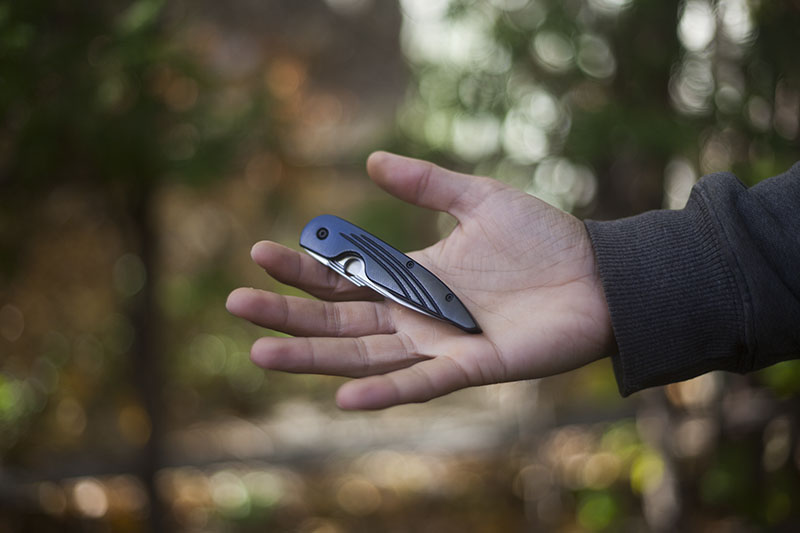 So I would say, aesthetics aside, this is firmly in medium-sized EDC territory. The blade length hits in at 3.11 inches (7.9 cm), which is an odd size. I know some folks live in countries with restrictions on blade lengths and a popular (ridiculous) arbitrary number is 3 inches. Why Spyderco couldn't make the blade a touch smaller to accommodate them is confusing, but then again – who knows – maybe there is a very good reason for this. If you know why the extra .11 inches, feel free to fill me in in the comments' section!
My other point of contention was Spyderco's choice to leave the locking liner with a rough machined finish. I would have preferred something more uniform, like the finish on the blade or a mirror polish. Elise was not able to get a good photograph of the texture, but it looks like a kid went wild with 400 grit sandpaper. Striations in all directions. Why?
I am sure (once again) Spyderco had a good reason for doing this, maybe this is a Des Horn signature style or maybe they wanted the liner to be subtle and yet different. Who knows, but whatever the reason, it's not my thing.
The Spyderco Des Horn's blade features a similar symmetrical curvature to the scales. The tapering of the scales is designed to mirror the silhouette of the blade, an interesting aesthetic touch, and the reason Elise bought the knife in the first place. She loves unique knives like this, and it reminds her a lot of the equally interesting Spyderco Balance.
The CPM S30V blade is 3 mm thick. Can't say I am super happy about this, as I would have preferred a super lean slicer, especially in such a light package, but I will say that the tapering is aggressive enough that the Des Horn is certainly not a a heavy duty blade – very much an EDC/slicer in terms of intended design.
The blade of the Spyderco Des Horn is hollow ground (very aggressively might I add) and utilizes a nested stainless steel liner lock to keep your digits safe. It's well implemented, and I don't foresee any issues for everyday use, although I wouldn't suggest using it as a folding pry bar.
Realistically, judging by design alone, you know the Spyderco Des Horn is not going to be a folding beater knife. If you want a solid, heavy-duty folder in a similar package, I can wholeheartedly recommend the Cold Steel Finn Wolf; the Des Horn by comparison is positively delicate.
No choil and neutral'ish ergonomics on the Des Horn means that if the lock fails (unlikely), your fingers will be guillotined off. I would strongly suggest using the appropriate knife for any task. That isn't to say that the liner lock felt weak or that the lock up was in any sense questionable, but rather that it's 2016 and you can get a rock solid TRI-AD locking knife for a third of the price of the Spyderco Des Horn, so let's be smart with our choices, as fingers don't grow back!
The blade of the Spyderco Des Horn is distinctively marked by 3 grooves CNC'd into the tip of the blade. This results in an interesting tapering effect reminiscent of the Cold Steel Talwar. I think it looks awesome, and whilst I am sure it adds quite a bit to the manufacturing cost, I reckon it's worth it. The style of the Des Horn is pretty subtle and I think this gives it a certain flair that makes its price point seem more appropriate.
Sadly, the scales are not designed with lefties in mind, which means my preferred method of deploying Spydercos (with my middle finger), simply does not work. Wrong handed people may also have issues with this Spydie. Something to think about.
In a lot of ways, this is an odd duckling to review. The Spyderco Des Horn is chock full of compromise from its dressy appearance, yet with roughly finished liners, to its lightweight pocket-ability, but limited carrying options. It's a quagmire to be sure, and I think this is the kind of knife you have to take on aesthetic merit alone and not sweat the details.
Fit and finish is pretty perfect, as I have come to expect from Taichung-made blades. Any quibbles I may have are a result of Spyderco's choice of finish rather than manufacturing tolerances.
The scales of the Spyderco Des Horn feature steel liners on both sides. They are, however, skeletonized, which helps in providing that perfect 2 ounce weight.
Deployment using your thumb and the Spyderhole is consistently reliable. I have no issues with it. It's not as quick as my usual methods, but it's not a 2-handed opener either. Once again, this is an aesthetic compromise to function that Spyderco chose with this knife. The Spyderhole on the Des Horn is significantly smaller than other similarly sized knife models (I am think of the Delica especially), and as a consequence, deployment will not be as natural right off the bat.
With that said, the detent is crisp, and after playing with it for a few minutes, it will become second nature.
The pocket clip is the ubiquitous Spyderco wire clip. I absolutely love it (which I've been quite vocal about in the past), as I have mentioned in my Sage 1, Sage 2, & Sage 3 reviews, as well as my Manix 2. It is a solid, dependable option that offers great retention whilst remaining easy to withdraw.
I love it. My only sore point is the lack of tip up carry.
Saber grip is very comfortable. The design and lack of choils/jimping/guard makes me rule the Des Horn out as a tactical option, but whenever I wield this knife I think, "This is a mean son of a bitch." The blade is almost offensively stabby, and in the hand it goes from being a gentleman's folder to a vicious 3.11 inch scalpel.
Piercing a box with it is almost visceral. I can't think of any other word.
Choking up on the Spyderco Des Horn is completely viable. Again, the scales are very neutral in nature with a single downward taper. As a consequence, you can really hold this knife any way you like!
And that includes reverse grip. Again, I would not suggest this is a self defense option, only due to it's lack of safety features like choils and a more heavy duty lock. If we were going by blade alone, the Des Horn would be a mean tactical option.
Pinch grip is interesting. Completely viable and, again, reminds me a lot of holding a scalpel. The tip is not a true needle like the Kershaw Leek, but it's pointy enough that delicate tasks are no problem.
Balance point is, once again, very neutral. Just one finger behind the pivot. The result of this and the 2 ounce weight is that this blade is almost effortless to wield. If I had to cut paper all day, this would be one of my top picks.
The polished black G-10 scales also have 3 grooves CNC'd into them. I think it's a pretty neat design quirk to have grooves pretty much follow from the blade to the butt of the scales; almost like the trails of a shooting star.
In any case, interesting design for sure, with a clear bias towards aesthetics over performance, and frankly, I am sort of okay with this. It's good to design something interesting instead of always catering to the mainstream, much like Cold Steel did with the creation of their Tanto Voyager XL that I recently reviewed. I find myself appreciative of companies that try to produce something just a little bit kooky just because they can.
The Spyderco Des Horn is a very unique blade that, if nothing else, has the ability to elicit conversation amongst everyone, including knife aficionados.
Discussing this knife on performance alone, I would have to say that it's sub par and the knife is over priced. When you take into account how quirky it is and especially if you like it aesthetically, then it could be quite a bargain seeing as how it has no real competition in the market in terms of aesthetic design.
Personally, I wouldn't get it for myself, but then again you keep doing you, Des Horn. I might not be a convert, but Elise immediately jumped on buying it, regardless of the price tag, so clearly you are doing something right.
If, like my wife, you find yourself in love with the aesthetics of the Des Horn, then I would suggest you buy it pronto. As I mentioned at the start of this review, it is already discontinued, and I have a good feeling that due to its quirky nature, it may become a collectible as many Spydercos that initially are hard to place do end up. Looking at you, Spyderco Dodo.