I scribble a lot about knives (and other gear) on MTJS. After so many years and so much steel accumulated, this "hobby" has brought forth some interesting conundrums. We talk a lot about value, us gear aficionados.
We have this idea that value is the perfect balance between performance and price, but I found after so many years that, really, you never do reach knife nirvana. There is always something newer, something shinier, something that will be more on the mark in terms of being the perfect value. And thus as I scribble this holding my latest shiny (a super sexy Helle Temagami), it's dawned on me that we should really have a chat about the true meaning of value in this industry.
I get around 20 e-mails a day. 90% are spammers asking to do a guest post or for me to spam my readers with some crappy mall ninja product (spoiler alert: we will never allow guest posting nor will I ever sell access to this community – ever), but buried among these emails, every week or so I get one from a genuine reader asking me to recommend what in my opinion is the "best knife for the money." The prerequisites vary a lot, but searching through my e-mail archive, I respond a solid 70% of these emails with one suggestion (for survival knives) – a Mora.
The thing is, a knife is a sharpened piece of steel. We can spend hours discussing fit and finish, but at the end of the day, we are still looking for a tool that cuts. Being a knife nut, reviewing and owning so many knives, and yet still accepting that we are talking about what is essentially a pretty basic tool puts me in an odd position. If the answer to all outdoor knife suggestions is a Mora (and nearly all folding knife questions an Opinel), then why do we spend so much money on knives? On my nameplate website I humorously describe MTJS as the marketing arm of Spyderco, and all jokes aside, it's true that I have built up an emotional attachment to these tools.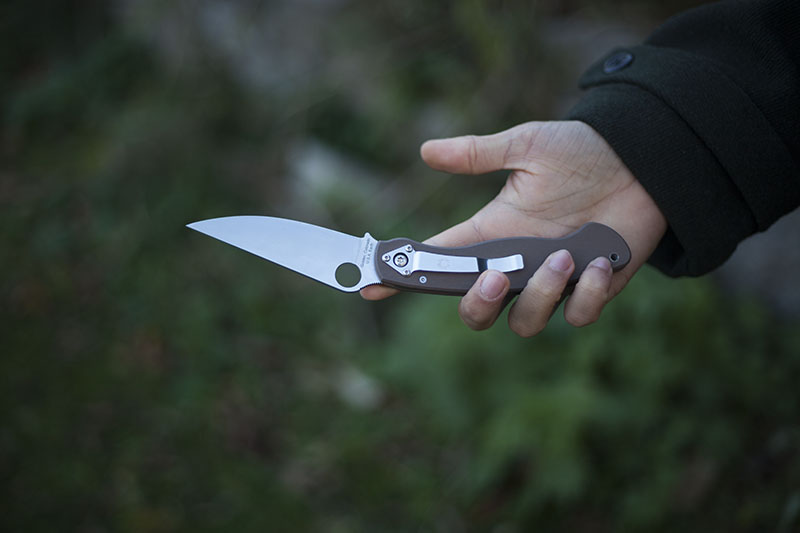 Spyderco Military Folding Knife – Amazon / Blade HQ
And you know what? I'm not sorry!
It's okay to appreciate the performance of a perfectly ground blade, even if the cost is disproportionate to gains in cutting ability. If we are to be honest with each other, it's clear that our love for certain brands, styles, and steels supplant logic and allows us to forgive the high price for the sheer amount of joy we gain from handling a beautifully crafted knife. I will always review knives with cost in mind with regards to the value it can offer to all of you, but at the same time, I maintain that the Benchmade 940 is decent value all things considered. I know it's not as tough as a $10 fixed blade, nor does it cut as well as an Opinel, but value can also be in relation to the materials, craftsmanship, and the general ethos behind the design.
On that note, I took a gander into my box of steel and picked out 5 blades I own at varying price point to discuss value relative to their purpose. The interesting thing is that beyond materials, the end result is very similar amongst those 5 knives with regards to end user purpose.
Helle Temagami Fixed Blade Survival Knife – Amazon / BladeHQ
Survival Knife Value Comparison: 5 Valuable Knives in Various Price Points
Knife #1: The Mora Companion
Oh the Mora Companion. What a perfectly designed slab of steel and plastic you are. Folks, if all you care about is peak performance for your buck, you won't be able to do better. The grinds are shockingly good, the steel is excellent, and the mindset behind the design is from the perspective of performance. These blades are time tested! I know some people with a questionable understanding of knives often point at the lack of a full tang, but I have never broken a Mora and that's after owning (and using quite roughly) in excess of 30+ of these guys. They are tough, well made blades that I would trust with my life, as many survivalists do.
Availability: Amazon • Blade HQ • eBay
---
Knife #2: The Cold Steel Finn Bear
I have owned the Cold Steel Finn Bear for a while. I have yet to review it, but its general design is super interesting. It's a modern take on the Puuko and the fit and finish is very tight despite a low emphasis on materials. The steel is inferior to a Mora's, but good enough for anything you can throw at it. To be honest, 40 years ago it would have been considered a fantastic steel. New technology and steels get released all the time, that doesn't mean older blades magically stop working.
Or at least if they do, my Buck 110 hasn't gotten the memo!
Availability: Amazon • Blade HQ • eBay
---
Knife #3: Condor Bushlore
The Condor Bushlore is the poor man's bushcraft knife. I consider it to be excellent value as long as you understand that this is more of an "artisanal" product. Sure, its performance out of the box is great, but to get the most out of it I would advise putting some sweat into it. It's obvious where the cost cutting went into play with regards to the more blocky nature of the handles, but ultimately, I still think it is superb value and to this day it's Elise's favourite fixed blade.
Availability: Amazon • Blade HQ • eBay
Read our review of the Condor Bushlore
---
Knife #4: The Helle Temagami Ca
My latest baby, the Helle Temagami. Review to come soon. The fit and finish on my Temagami is absolutely perfect. The scales are contoured to the point that it feels like a natural extension of my hands. It's truly bizarre to hold this and then a Mora because of the price difference, but objectively, I think you would get your money's worth with the Helle. The materials are great, but for me the biggest selling point are all the little details, how the blade naturally tips downwards just a touch, the fact that the tang is only visible on the spine, which is great for cold weather (steel + bare hands + cold weather = bad mojo), and the general feel of craftsmanship I get from this tool is amazing.
Sure, it's just a knife. But when you handle something that's manufactured so nicely with such exquisite attention to detail – is it still "just a tool"? This is a tough one for me. We spend so much money on clothes, cars, etc. and accept that brands and superficial features impact the price, but when it comes to knives, it's easy to be dismissive and say – "It's just a piece of steel, shouldn't cost more than $30!" I disagree and if you spend a day working with the Helle, I reckon I could convince most of you of the same.
Availability: Amazon • Blade HQ • eBay
Read our review of the Helle Temagami
---
Knife #5: The L.T. Wright Genesis
The L.T. Wright Genesis is a super interesting selection to throw into the mix. It's a scandi bushcraft blade, its materials and steel are relatively common place amongst more competitively priced production blades, but here's the thing: it's not a production blade. This is a custom knife and thus the value has to be quantified based on the labour and time of the craftsman and its scarcity in the marketplace. It's difficult to ascertain value in this context because many craftsmen make what are considered "production" blades – the Helle above being a good example.
Read our review of the L.T. Wright Genesis
L.T. Wright Genesis Black Handled Survival Knife
Your Turn: What Are Your Thoughts on Knife Value?
This is such a loaded topic that I have decided to reach out to you all to find out what you consider a high value knife.
Let me know some examples of what knives you think are valuable (at any price point) and why you think they are high value.
I will do a reader's choice round up with your recommendations and we will explore this topic further!
Edit: That reader's choice round up has been published here.