After reviewing the Gerber Shard I found myself getting really into small multi tools and widgets as a viable concept for everyday carry. The Nite Ize Doohickey is the latest addition to my widget roster, but there are definitely more to come. I primarily was fascinated by the Doohickey because of its incredibly sleek appearance, and the fact that it brags quite a few different functions for such a small key tool. Lets see how it holds up as a working tool.
Nite Ize Doohickey Keychain Multitool – Amazon / eBay
The first thing to note about the Nite Ize Doohickey is how well finished it really is. Nice machining with no visible burrs or defects paired with clean laser engraving really bring home that this is a well conceived tool, at least in appearance.
The most obvious tool besides the pry tip and bottle opener are those 3 hex bolt cut outs. Their sizes are 1/4th , 5/16th and 3/8th of an inch. I didn't have any hex bolts on hand in those sizes so I didn't get to test these out myself, but to be real honest, I think that with the size of the Doohickey, you are going to be faced with a real lack of leverage to screw or unscrew anything sizable. This is clearly and emergency-only kind of tool, and I have never been faced with a hex bolt emergency, so I can't really comment on how useful it is.
That being said it's nicely integrated as extra space for the carabiner, and a mediocre tool is better than no tool, so +1 for the Doohickey there.
The Doohickey features a laser engraved ruler, both metric and imperial, on its front. I am not sure how handy 2 inches/40 mm of measuring area is, but it's a nice touch that adds no extra weight.
It has a somewhat (ok, barely) sharpened area, towards the corner of the prying section. I can't say I am a huge fan of having any cutting implement exposed, especially on an object that's supposed to dangle freely inside my pockets, but in real world use I didn't notice any discomfort, and since the box cutter section is by no means sharp enough to ever become a safety risk, this feature seems fine to me.
To put it bluntly (heh) it doesn't cut: it tears. Pretty useless. I'd imagine a credit card would have the same result. I will say that with some later testing, I did find it useful for scoring pine wood and drywall.
Small Phillips screw heads were just too small for the Nite Ize Doohickey, and using the box cutter area to attempt to tighten/loosen these screws proved completely unsuccessful.
Kershaw Emerson CQC-6K Folding EDC Knife – Amazon
However, with flat head screws, like the ones featured on all Emerson knives (including the CQC-6K, which is the knife being used in these photographs) the Doohickey sorta worked for adjustments.
I say sorta worked because it did leave pretty heavy marks on the pivot/screw head. Not impressed, but in a pinch/emergency, it does work.
Since the Nite Ize Doohickey proved pretty much average at most tasks, I was really hoping it could easily open a bottle.
And finally, some success!  Better "performance" than the Gerber Shard at this particular task.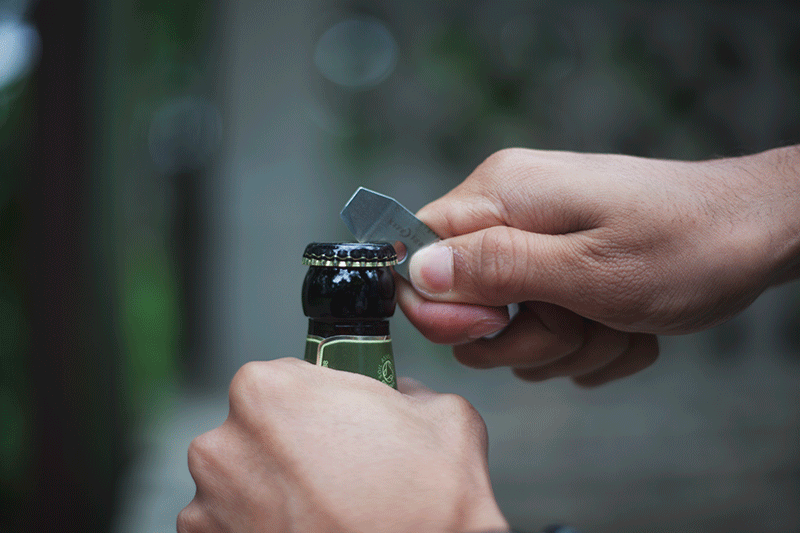 The Nite Ize Doohickey does mangle the cap quite a bit, but with my experience, it seems most of these tiny tools do. Of course there's just no way a widget multi tool will match up to the real thing.
When I received the Nite Ize Doohickey, I was shocked by how tiny it is. Definitely was expecting it to be a lot bigger, but I was pleasantly impressed by its smallness. The Doohickey is actually pretty much the same size as the Shard. It measures a miniscule 64.8 mm (2.6 inches) long and 17.2 mm (0.7 inches) wide.
Around a keyring, I found the Doohickey to be superior to the Gerber Shard based purely on its perfect flatness. It takes up roughly the same amount of room as a key. The trade off is that the Shard's curve does offer it better leverage for prying.
As a carabiner its pretty terrible. Far too small to be useful.
It is a very good looking mini tool, however. So far, it's the most handsome widget I have. That being said, I'm not altogether impressed by how it functions in a practical sense, so I'm not sure it will see very much use with me.
The Nite Ize Doohickey is pretty mediocre keychain widget all around. Its sleek design is definitely one of it's most compelling features, but the Doohickey is ultimately a bit of a let down in terms of function.
Tools on the Doohickey don't work anywhere near optimally. Ultimately, it feels like Nite Ize designed the Doohickey with form over function in mind. Yes, it's actually hit the perfect mark with me aesthetically, it's got a very sober industrial look that I really do fancy, but that's just not enough for me to feel compelled to carry it everyday.
As far as keychain tools go, I would pick the Gerber Shard over the Nite Ize Doohickey in pretty much every situation. Unless I had a regular need of hex bolt adjustment tools, that is, but even then I would get a dedicated tool instead of fiddling with a tiny little slab of steel.
Sorry Nite Ize, just not doing it for me this time.