Buck has always been a fascinating company to me. They very rarely jump aboard new trends, and rather tend to trudge along doing their own thing. I don't say this as a criticism at all, because clearly it works. A Buck knife is unapologetically a Buck knife. It's curious (because it's so rare) to handle a fixed blade with unique materials (phenolic scales and aluminium butt cap anyone?) that have not changed in years. With that said, the Buck 119 Special is still very much a capable tool, even to date.
Buck 119 Special Clip Point Hunter Outdoor Knife – Amazon / GP Knives
I imagine when the Buck 119 was first introduced, it was considered a sizable outdoor knife. Now it's positively average in proportions in all the right ways. Personally, I think 6 inches is the perfect length of blade for an outdoor knife.
The blade, like with the bulk of Buck knives, is hollow ground (very nicely) with no noticeable imperfections. It's sad that I even have to remark on this, but only this week I picked up a Boker War Toad for Elise (interesting knife, by the way) that had machining flaws that you wouldn't see on a $20 knife. It's a sad state of affairs when a properly made knife becomes an advertising point.
In any case, really nice grinds, Buck. Expected, but I am happy nonetheless.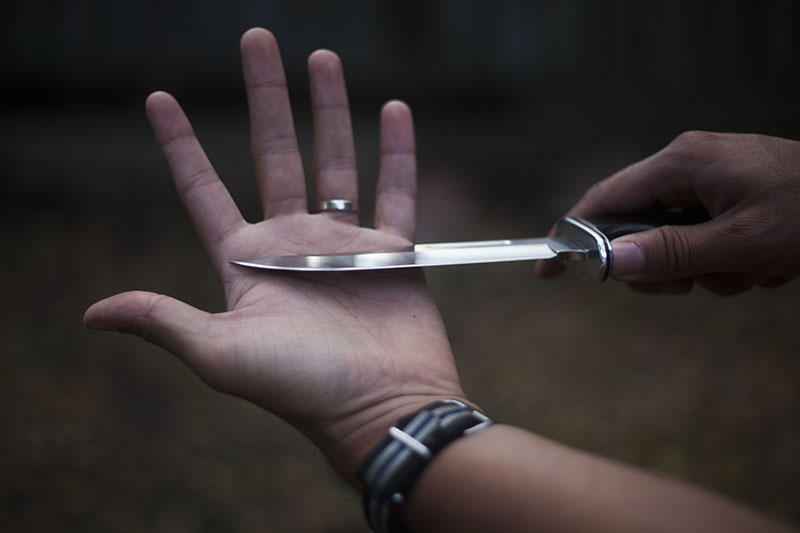 The Buck 119 Special is surprisingly stout. The blade is just shy of 3/16 inches thick, which is definitely on the meatier side of things. Personally, I am happy with 1/8th inch thick blades (or thinner when it comes to Moras), but this is definitely a more heavy duty knife. It's not a chopper, and it's not a slicer, but rather, something in between. Would I want to be stuck with only this knife in the wilderness? I sure as hell wouldn't complain. Plenty of worse options.
I will mention however that Les Stroud (Canadian survivalist extraordinaire) actually grinds down the tip of his Buck 119 to make it less pointy. I personally didn't find it fragile in any shape or form, but then again, it illustrates the fact that we all have different prerequisites. Les Stroud maybe needed a very stout tip, whilst I personally prefer finer tips for detail work.
To each his own!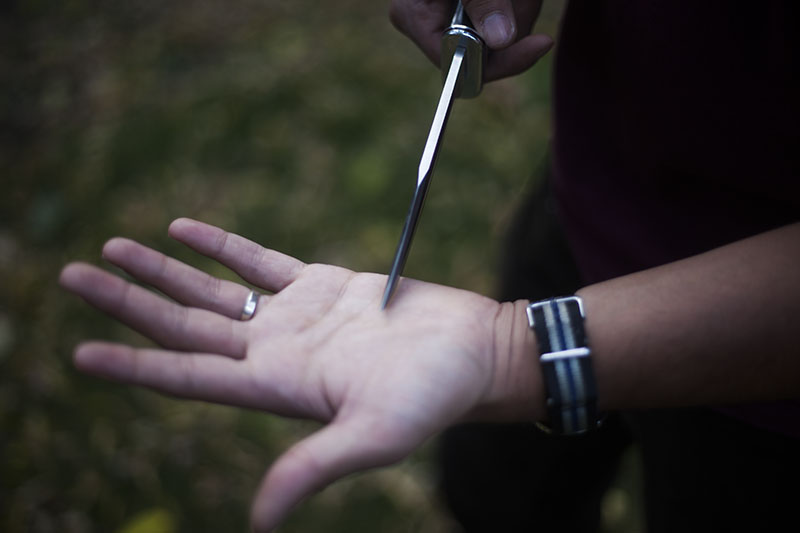 Slicing ability is decent, not amazing, and I've gotta admit, I have been utterly spoiled by Scandinavian ground blades like the utterly perfect Condor Bushlore (or any Mora). That being said, the Buck 119 is definitely a viable tool for general woodcraft.
I absolutely love clip point blades. This is like a politically correct (and smaller) version of the Ontario Marine Raider. I don't know if it offers any advantages in the field over a drop point with the exception of penetration (definitely stabby enough) and field dressing, but going by aesthetics alone, it's a winner. Gotta love that milled out groove in the blade too!
My biggest criticism over the Buck 119 is the guard. I don't see the point in its existence (a choil would have served it better), but more importantly it gets in the way of choking up. I am used to choking up with my outdoor blades so perhaps someone who isn't as picky wouldn't care, but for me it's a deal breaker. Technically, as you can see below, you can choke up with your pointing finger over the guard, but unfortunately it's incredibly unsafe (see the next photograph).
That choil just isn't long enough. An example of a choil done right (even with a guard) is on the Schrade SCHF9. That thing is a beast. The lack of a decent choil on the Buck limits its usefulness for my own uses. If you don't care to choke up on your blades then this won't concern you.
The lack of a significant choil means that the lower portion of the blade can bite into the flesh of your fingers. I have western size L hands (not particularly big) and found myself concerned, I wouldn't do this regularly, and if I had to do it, I would be very, very careful.
Slicing performance was generally quite good. Les Stroud rocked this knife in the wilderness, you know, during one of his starvation experiments (I kid, I kid), and he had no issues – you won't either. Frankly this knife is very versatile with no real downsides in terms of cutting ability.
The hollow ground is lean enough that you can bite into the wood for detail notches very easily. The Buck 119 isn't a chopper.
As I mentioned, I like my tips super fine for detail work. The Buck 119's tip is a smidgen too obtuse for me, but it was functionally adequate.
With that said, I know some people prefer more reinforced tips for rougher tasks like batoning. Dealer's choice really. If you want a more acute point, it wouldn't be difficult to add one, even without power tools (I would use sandpaper and maybe a rounded file).
So yes, all in all I was pretty happy with the Buck 119. Not over the moon; this is not competition for my L.T. Wright custom, but it has nothing to be ashamed of.
Now onto the tests people like to see!
The tang on the Buck 119 is a stick tang. Unlike a Mora, it's significantly wider and goes all the way into the pommel. I have no concerns over its toughness, especially with a 3/16 inch slab of 420 HC steel behind the edge.
I generally dislike batoning with hollow ground blades. I find the edge tends to bite in very quickly and then you're often left with a glorified wedge. The Buck 119 was no different. It works, but I would would go with a full convex ground blade over a hollow ground like this every single time.
The clip point is ground to an extremely thick, dull edge. It wont cut paper (ever), but it will definitely chew up your baton. Something to consider.
What a pretty sight! Speaking of pretty, Buck used polished aluminium hardware on this beauty and added some super sexy red liners sandwiched in the guard and pommel. It provides contrast and adds a nice visual detail.
The spine of the Buck 119 is squared off. Some people think you need a carbon steel blade to elicit some sparks out of a fire steel, but you really don't. The Buck 119 Special belted out gobs of heat with very little work.
You can see below that the blade is left with clean machining marks. I like it. It contrasts nicely with the polished everything else and gives it a nice industrial/utilitarian look whilst keeping a classic "Buck" style to it.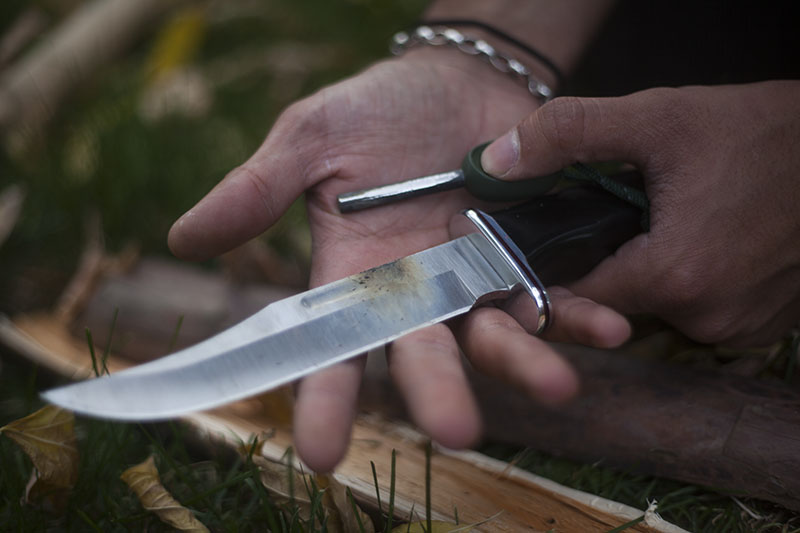 The phenolic resin handles are… weird. As you can see below, Buck went with a very ergonomic handle, lots of curves and palm swells. Personally I prefer more neutral handles, but rest assured that if you have large hands, this knife will feel good. Elise tells me that the ergonomics are fine with her too, so I think from a functional standpoint Buck did well here.
One advantage to having synthetic handles that don't leave any steel exposed is that in winter (especially in Canada) cold steel against flesh in sub zero temperatures can be quite dangerous. With this, no issues.
The bird's beak on the pommel adds a smidgen of safety when holding the knife in a saber grip, although frankly, the handles fill your hand so nicely that I don't think you even need a guard or protruding pommel. Once in your hands, the Buck 119 ain't going anywhere.
One of the classiest knives I own. I have knives that cost many times what this one did (and this knife is one hell of a bargain, taking into account that it's made in the USA) that don't look anywhere near as expensive. I find myself incredibly impressed with Buck's styling choices with this knife.
Pinch grip is not really viable. The top of the guard digs into the flesh of your palm and as I mentioned before, the lack of a sizable choil is not conducive to keeping your fingers intact.
Reverse grip is perfectly comfortable. Not sure if this would be my first pick as a tactical blade (certainly on the blingy side), but it slices well and can most definitely penetrate. In bear country I would opt for something with more reach, but realistically speaking, talking about self-defense with a knife from the comfort of my chair is silly. If I ever have to use a knife under duress I will be happy with whatever I have in my hands.
Just keepin' it real!
Balance is nearly perfect. I almost feel like if they hadn't added that blood groove it would have been spot on. Not a deal breaker, but if you want a perfectly balanced knife there are better options.
The Buck 119 has a very nice leather sheath made in the U.S.A. (very impressive). Construction is tight and the sheath is very nicely conceived. As you can see below, you have a plastic inner sleeve to protect the sheath from the edge of the knife.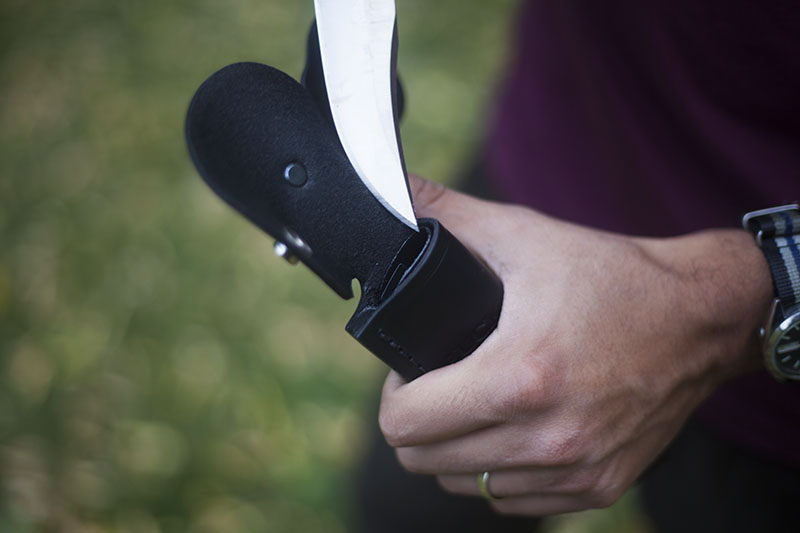 The sheath's leather is of a decent thickness with tight stitching and no flaws that I could see. I did feel like the leather was a bit stiff, but with some mink oil, a decade of use, and some love, it will be supple and pretty perfect.
Very nicely implemented drainage hole. Probably the best out of any leather sheath I have handled.
Retention is perfect by virtue of its design. Definitely a plus in this case to have a guard. Deployment is quick, too. With a fast tug, the popper (no idea what that thing is called) disengages leaving the knife free to be pulled out.
Belt loop is generous. I don't see any belt not being able to fit it. Even those 2 inch tactical webbing belts should be okay.
Sits nice and close to the body; no wiggle and easy access. What more can you ask for?
I don't own any other knife like the Buck 119. Much like the Buck 110, this is a classic through and through. Do you need one in your collection? No. Should you have one? Most definitely yes.
As a performance blade, the Buck 119 can't really compete with options like the Condor Bushlore, ESEE 6, or the plethora of modern 6inch blades on the market. Its limitations are intrinsic to its classic appeal. You can't modernize the Buck 119 without losing what makes it the Buck 119.
This is not a bad thing. I love my classic Bucks and feel a distinct sense of protectiveness over them. This is one of the least expensive knives that I think could easily be considered an heirloom item to be passed down. I can't see myself passing down or cherishing a SOG Seal Pup, but this 7.5 ounce slab of Americana is worthy in my opinion. Not all knives have to be bleeding edge with futuristic materials and super steels. This is the perfect rebuttal to the plague of generic "survival" knives with alphabet steels, unapologetic and unflinching.
Once again, I am concluding this review on an emotional note rater than a performance bias, but no one here really expected any different. No one buys a Buck 110 thinking it will compete with an Endura, and no one should look at the 119 as anything other than a unique, American-made design that has stood, and will continue to withstand, the test of time gracefully.