I don't know about you, but every year around November, I seem to get completely swamped with thinly veiled spam suggesting I need to try this "brand new all-in-one electric knife sharpener" that will give myself and my loved ones a "real Chef's edge" in just one pass! I know many people who have bought into these marketing gimmicks (some of my own family & friends included), many of which were duped into buying a less-than-helpful Christmas present for mum that just ends up stashed away in the garage for decades, but some unfortunate souls who were tricked into buying one of these for themselves out of a genuine desire to get a quick and easy edge on the knives in their personal collection.
My default reaction to this kind of spam advertising is to simply call bullshit, hit archive or spam, and ignore it, but I do believe it's important to address this ugly side to cutlery, which is why I'm taking the time to address the problem today. The marketing nonsense concerning what you need for your knives is frankly ridiculous, especially when it comes to sharpening.
Benchmade Adamas 275BKSN Folding Knife – Amazon
Before I get into the nitty gritty and explain why these mainstream electric knife sharpeners are idiotic (in my extremely biased, but well-informed opinion), I'm gonna be straight up and point out that whilst electric sharpeners can in theory make your life easier, and while they can definitely make sharpening a knife faster, the edge they put on certainly isn't anything special, and you most certainly do not need them.
If you still can't wrap your head around why I'm so against them (maybe you'll want to argue: "Well, they're good for what they are. They're convenient. Easy to use. Reasonably priced. Pretty cheap, actually. And they're easy to have just lying around the house in case I need 'em."), check out this video of a Canuk named Cliff Stamp putting a glorious edge on a standard Chef's knife using nothing but a clay brick to sharpen. Yeah. Forget the electric knife sharpener. You can do better with a clay brick (taking into account the cost).
Now that you understand the reality of how useless electric knife sharpeners are considering they're put to shame by a simple brick, let's talk about sharp knives and the products these marketers, who are 100% not knife people, try to foist upon you.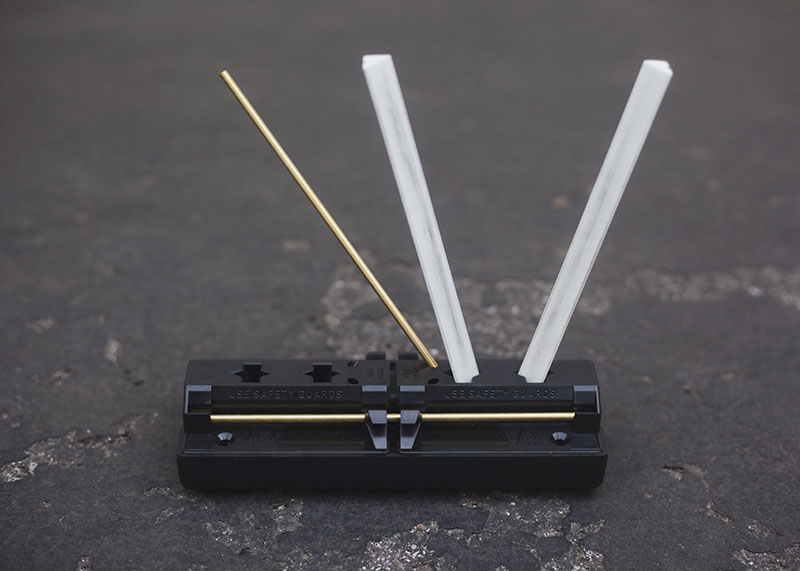 Spyderco Sharpmaker Tri-Angle Sharpmaker Knife Sharpener – Amazon
The standard electric knife sharpeners that you will find being advertised on TV – and paraded around as the best thing since sliced bread on shill websites all over the net – are basically electric versions of the (very good – though manual, not electric) Spyderco Sharpmaker. The standard electric knife sharpeners are similar to the Spyderco Sharpmaker in that they use preset slots that have abrasives (stones commonly used to sharpen knives) for you to drag your knife through and fix the edge of your blade. What makes the electric knife sharpeners different from the Spyderco Sharpmaker is that these stones rotate rapidly so that you don't have to move your hand back and forth over and over again to manually put the edge on the blade (like you would have to do with the Sharpmaker).
Sounds okay so far, but these electric knife sharpeners are still not ideal for this one particular reason: on those electric knife sharpeners, the guiding angle can never be adjusted. This key difference is exactly why the Sharpmaker will always be infinitely superior to any one of these electric sharpeners.
Why is an inability to change the guiding angle a problem? Sometimes you'll need a razor thin edge on a knife (which will be extremely useful, but will dull more quickly), while other times, you'll need a thicker edge (which will last longer, but not cut so nicely). Electric knife sharpeners do work, but they consistently place a basic edge of "decent" working sharpness at consistent angles. You can never choose for yourself whether to have a thick or thin edge. You'll always get something in between.
Not just that, but they also really f*ck up your blade.
A good example of these gimmicky sharpers is the Presto Eversharp series, which is promoted as a one-step solution to give you professional results in minutes for only 30 bucks. Yeah no. You're not even going to get the same kind of edge Ikea puts on one of their kitchen knives with a knife sharpener like this.
Take a look below to see exactly why I'm incredibly wary of the advertising hype around these "professional" electric knife sharpeners. These reasons adequately sum up why I strongly believe you should avoid electric knife sharpener marketing gimmicks like the plague.
Kershaw Leek 1660 Sleek EDC Knife – Amazon
6 Reasons Why You Shouldn't Get an Electric Knife Sharpener
1. "Professional" electric knife sharpener marketers treat you like you're stupid.
Supposedly, knife users are a bunch of idiots who can barely hold a knife straight. God forbid we should be able to choose our own angles. That's just way too much responsibility!
Put the knife in the slot labelled "knife goes here," press the switch, and pull! Voila! You're now a professional knife sharpener! Start accepting commissions boys and girls, and have everyone look at that glorious "Chef's edge" (quotation marks to indicate sarcasm).
Obviously, there are people who really don't like the idea of having more than one step when it comes to sharpening knives, and as such this product does in theory work fine. But if you're one of those people, just know (I've said it before and I'll keep saying it over and over again): your knives are not going to have professional edges with these products. The advertising, no matter how convincing it may appear, is wrong. If you can't change the angle of the edge, or use finer abrasives on the gadget you just bought, you're not going to get a "Chef's edge." End of story.
Smith's PP1 Pocket Pal Manual Knife Sharpener – Amazon
2. Electric knife sharpeners are really not that cheap.
If you the consider the fact that a clay brick will quite literally give you results on par to a mainstream electric knife sharpener, you really should understand just how much of a rip off these things are.
$30 at the low end, and well over $100 at the high end is no pocket change, especially when it comes to bang for buck.
I'm not kidding when I say these things are overpriced. Even if into the idea of getting a working edge and want a simple process to get you there: if you don't care about professional edges at all, there are some pretty damn acceptable manual sharpeners, like the Lansky Blademedic or the Smiths PP1 Pocket Pal (which we reviewed here) for instance, that come in at around 1/5th of the price whilst also taking up 1/10th of the space. They have preset angles, which I'm against, but again, if you're into simple and easy, this is the way to go.
Space is also a huge asset with these inexpensive manual alternatives to electric knife sharpeners. You could literally slip the Lansky Blademedic into your pocket and take it with you on a camping trip if you wanted. Good luck doing that with an electric knife sharpener.
If you can stand the "manual labour" of just having to drag your knife through some sharpening slots yourself a few times, you'll be saving yourself some serious dough as well as a heck of a lot of counter space.
Kershaw Chill Folding Flipper Knife – Amazon
3. If you're a knife person, using an electric knife sharpener reinforces bad habits.
Using only a few sheets of sandpaper, I'm able to sharpen a knife to shave hair cleanly without ever feeling a pull or tug.
It took me a while to get my sharpening skills to this level, but I feel confident that regardless of how super the steel of my knife blade is, I can put quite a good edge on it.
Even though I now often use a belt grinder to sharpen my knives, I would still recommend learning at least basic manual sharpening techniques, as I feel that having a good understand of edge geometry and bevels is a basic skill every knife person should have. Knife people who have no interest in learning to sharpen their knives don't make much sense to me: why spend hours upon hours doing good research to finally find the perfect knife for your intended purpose and then spend less than 1 minute learning how to maintain it?
If you've managed to learn a thing or two about knives over the years, and you're a little intimidated by the idea of sharpening the knives you own, I promise you it's not as hard as it may look. Sure, you won't want to start off trying to sharpen your more expensive knives, but pick up a inexpensive Kershaw and give sharpening a go. You are not an idiot; grab some good sandpaper and give yourself a few hours to practice. You'll be able to put a hair shaving edge on your sexy new knives from now on without killing the edge of your knife with an electric knife sharpener and without having to send it off to a professional to actually get a great edge.
I'd definitely advise starting from the bottom (with sandpaper) and then considering going mechanical only after you have mastered manual sharpening. But if you're a knife person; honestly, learning to sharpen your knives yourself will likely be the best thing you've ever done for your knives.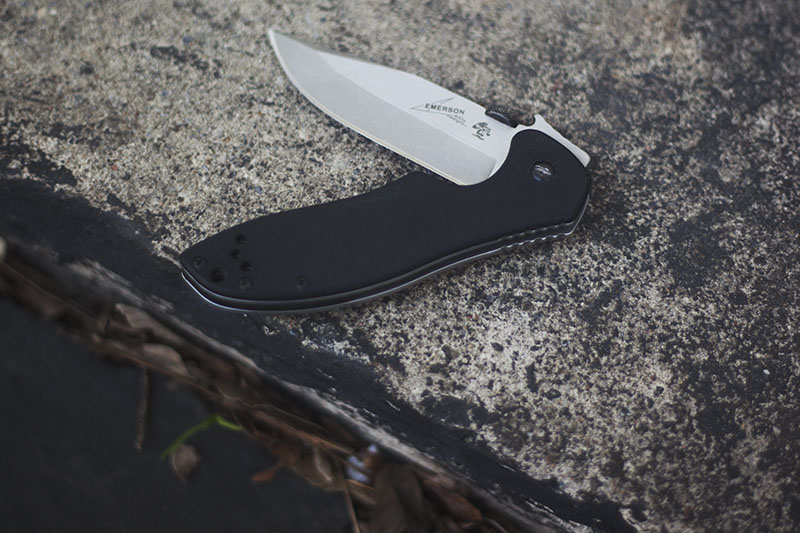 4. Electric knife sharpeners are designed for cheap knives.
Does it sharpen? Yes. But that's not a major feat (again, think about the clay brick that can also put a decent edge on a knife). Sharpening is nothing more than using an abrasive to remove material off the edge of your knife. In the case of electric knife sharpeners, aluminium oxide stones are commonly the abrasives used to create a thinner apex at the edge. 99% of knife blades are made of steel because It separates tissue/material cleanly without excessive pressure (when sharpened obviously), at a low entry cost in terms of manufacturing, which is why it's used.
But a major problem with these all-in-one solutions is that they have to design their products around the mainstream. Most people don't have nice knives, and the most popular pocket knives are not kickass Kershaw CQC-6Ks or Spyderco Sage IIs, but rather, China-made no-brand gas station specials. That is the reality, and electric knife sharpener companies don't build tools designed to sharpen super steels or even steels with above-average hardness.
It's for the average consumer that unfortunately doesn't know any better.
Which leads into my next point…
5. You are blind to the damage happening to your knives.
A plastic shroud coupled with motorized abrasives is extremely dangerous to your knives. When you place your knife into an electric knife sharpener, you simply cannot see how much material is being removed and if it is causing damage to the blade, cosmetic or otherwise. Many of my knives cost more than your average cellphone, and in today's marketplace: thats' saying a lot.
These mass produced electric contraptions are made to roughly eat away at the edge to reveal a brand new bevel with no regard for how much steel is removed. On a cheap Ikea knife – who really cares? You can just buy a new one. Easily replaceable. But I would never ever even remotely consider putting my shiny Spyderco Para-Military 2 or my prized Benchmade Adamas through that slit. Who the hell knows how much steel could come off? I could end up completely demolishing my blade: hell no!
6. With electric knife sharpeners you get zero versatility.
I've said this before, but it bares repeating. If you're a knife person, or you want any sort of control over the type of edge you want on your knives, electric knife sharpeners are just not for you.
My CRKT Hissatsu, Cold Steel Recon 1, and Condor Bushlore are just three examples of knives that would simply not play well with electric knife sharpeners. Why? Well the CRKT Hissatsu and the Cold Steel Recon 1 both have tanto blades: these are definitely not designed for pull through sharpeners, as they require rather more careful grinding to keep the new edge as close as possible to the original tanto edge. The result of putting them through a one-step pull-through knife sharpener would be catastropic. You can use the Spyderco Sharpmaker to put an edge on, but it would be a two-step process, as you'd have to sharpen the two angles of the tanto edge separately – doable with a Sharpmaker, definitely not with an electric knife sharpener…
In the case of the Condor Bushlore, the Scandinavian grind would quite literally be lost if you ran it through a knife sharpener with preset angles. Consequently, it's awesome bushcrafting abilities would be greatly diminished.
Knives, edges, grinds and steel are not black and white affairs. Some prefer more acute edges for EDC uses. Kukris, machetes, axes, cleavers, and Santoku's all have a great deal of variety when it comes to their edges: and you likely have many of these different types of cutting tools in your house already. You cannot simply run each of these through the very same electric knife sharpener and expect to see good results: the outcome would be dismal.
It's much better to invest in an incredibly versatile set up like a mini belt grinder from Worksharp than a singular-purpose sharpener from Wusthof. Sure there's a learning curve to the Worksharp sharpener that doesn't exist on the Wusthof electric knife sharpener – but at least the Worksharp gives you the kind of versatility you'll need to sharpen any knife well.
Spyderco Sharpmaker Manual Knife Sharpener – Amazon
(A Longwinded) Conclusion
In short, there's really no point in wasting good money on an electric knife sharpener, as they're a highly limited tool that take up a great deal of space and are really not all that useful if you have different types of cutting tools to sharpen (machetes, axes, cleavers, Santoku's, etc.).
It's better to just go with a manual, yet versatile system like the Spyderco Sharpmaker, or if you really don't care about the kind of edge you put on a knife (you should in general, but in case you just want a quick way to get a simple edge on an EDC or a kitchen knife), I'd recommend purchasing the Lansky Blademedic for less than a tenth of the price (and a fifth of the space!) of your run of the mill electric knife sharpener.
If you're a knife person, I strongly advise taking the time to learn how to sharpen knives with good sandpaper, and then taking your skills up a notch with a belt grinder. You'll get a huge rush when you finally learn how to sharpen your own knives to levels much better than production typically offers, and it's a skill that will be useful to you for your entire lifetime. It's really nowhere near as hard as it looks – so please do yourself a favour and give it a shot (on your cheaper, production knives first, of course). I can promise you won't regret taking the time to learn!
Do electric knife sharpeners have their place in the market? Yes. If they're designed by people who work with knives on a regular basis, care both for knives and their users – electric knife sharpeners can be great. This is true of this Worksharp I linked you to before: made by Ken Onion (who we can also thank for incredible knives like the Kershaw Leek & CRKT Ripple, amongst many others).
But do those run of the mill one size fits allelectric knife sharpeners have a place in the market? The ones that marketing reps push every November; those ones you see always being promoted by big buck stores and shill websites? Not in my opinion. No one should be buying those. They're pretty blatant rip offs. Just walk away.
Lansky Blademedic Manual Knife Sharpener – Amazon
A pervasive lack of utility and frankly dangerous (for your knives) way of removing steel does not lend itself to being a serious knife sharpening tool. Don't try using one to get a "professional edge" because you're never going to end up with what you signed up for.
Hell, even if I was given one for free, I wouldn't go near that thing with one of my knives. Not even a common $6 production one…
I know that some people will still swear by their Chef's Choice style sharpeners to the end of infinity, but I hope I gave you something to think about if you still haven't made a choice with regards to whether you love these things or hate 'em. I guarantee you, the better alternatives that exist are far more worth your money than any run of the mill knife sharpener could ever be.
If you didn't care much for your knives, you probably wouldn't be reading this article in the first place. So do yourself the favour of getting your knives (and your wallet!) the best care possible by steering clear of these god-awful things.